What was once a derelict workshop in east London, is now a comfortable small house thanks to a redesign by the architecture studio Kirkwood McCarthy. The three-storey house is owned by Fiona Kirkwood (of Kirkwood McCarthy) and her fiancé.
The house has been dubbed the Winkley Workshop, and occupies the end of a terrace-lined street built at the turn of the 20th century. The original single-storey structure was used by an upholsterer, but the state of disrepair led to a demolition job, replacing it with a taller building that took advantage of the small 13-by-30 foot site (3.9-by-9 meters).
From Kirkwood: "As two Australians living in London, we wanted the house to allow us a casual and social lifestyle with good interaction to the outside. This influenced decisions such as the brick floors from the basement to courtyard, where the entire basement level feels like an extension of the garden."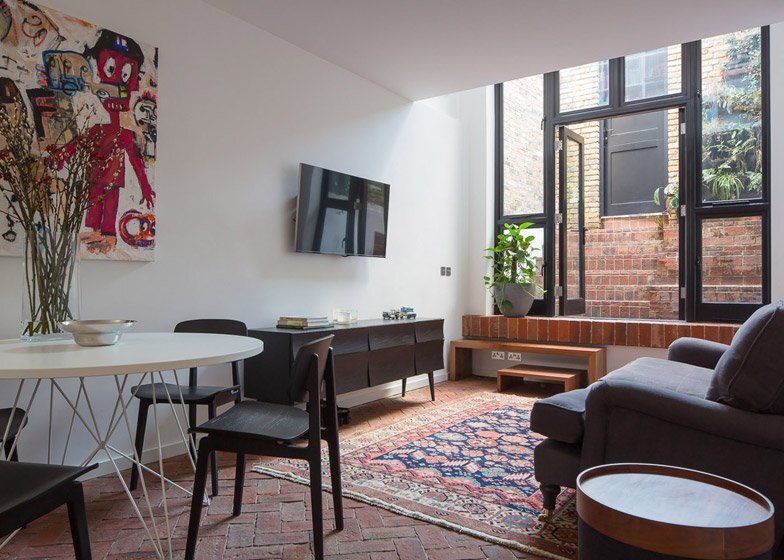 By using materials and proportions in-keeping with the surrounding area, the house blends in with the existing buildings. It also had to meet a number of regulations imposed on it due to being located in a conversation area. It features a red brick exterior with sash windows, stone lintels, and sills.
On the inside the house is bright and airy thanks to a double-height glazed entryway. The finish is crisp and features white walls, with a brick floor on the ground floor, and wood flooring on the other levels. The gable-end walls have generous amounts of fenestration in place to ensure each room within the house is bathed in daylight, and maintains a connection with the outside world.
The first floor contains an open plan kitchen, living and dining room. The next level up serves as a study area, with a shower-room. It's also stepped back from the front wall of the house, allowing the occupants to look down to the level below. The final floor is used as the bedroom and features a bathroom tucked away behind a curtain and an outside terrace.
For more small houses check out this summer house in Sweden that features a climbing wall for a roof. Or, Casa Caja, an affordable self-built home in Mexico. See all small houses.
Via Dezeen
Photos: Paul Fuller, Tim Crocker