This modern tiny house has been created by Frank Henderson and Paul Schultz. Located in Lake Forest, Illinois, the house has been dubbed the Toybox Home and contains just 140 square feet. The home's interior features some clever space-saving design, as well as a few eco-friendly elements.
The first aspect of this house that makes it stand out from all the other tiny houses is it's form – it's a step away from the cutesy, cottage-like tiny houses that the tiny house movement is saturated with. The exterior is finished in a mix of wood siding, colorful corrugated sheeting, and a roof that wraps around one of the gable ends.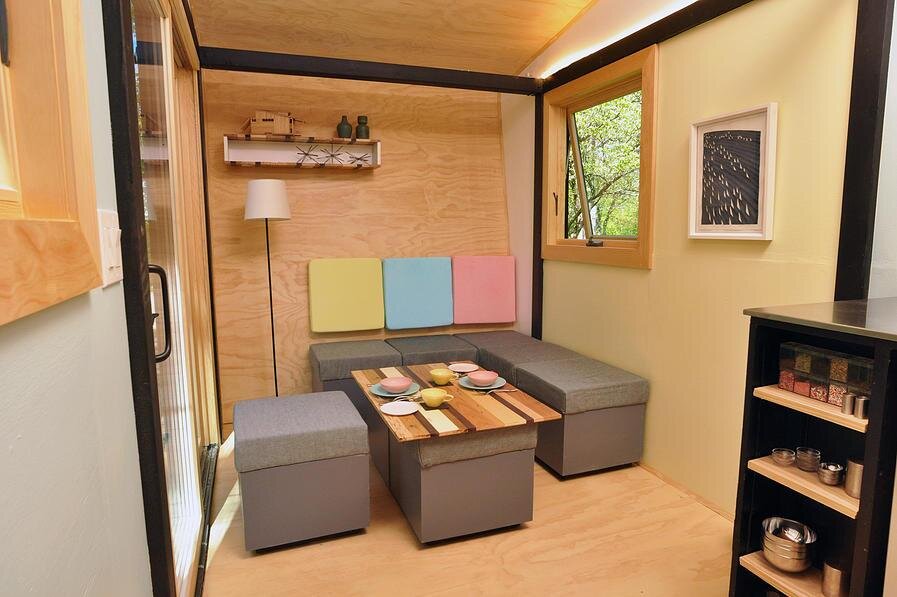 In terms of energy efficiency, the house includes a grey water recycling system, radiant floor heating, an energy-efficient thermoplastic roof plane, LED lighting, and Blown in Blanket (BIB) insulation. There are two levels in the home – a first floor multifunctional living space with a separate bathroom, and a loft for sleeping.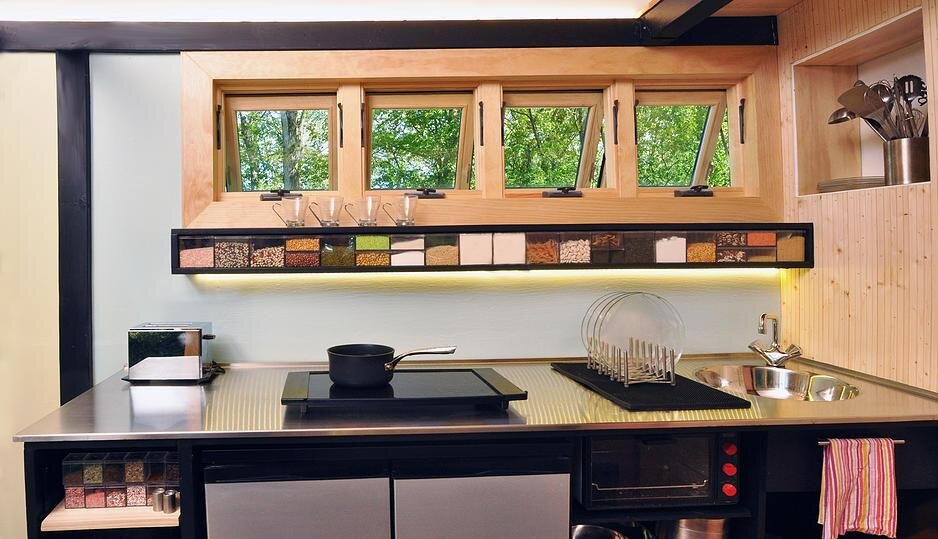 The theme of thick black lines on the exterior continues to the interior, where they loosely divide up the space. The first floor contains a living area and kitchen. The living area makes use of a smart little system that allows you to rearrange the furniture pieces (that also double as storage units) to create a living room with a coffee table, a bed, or a variety of sofas.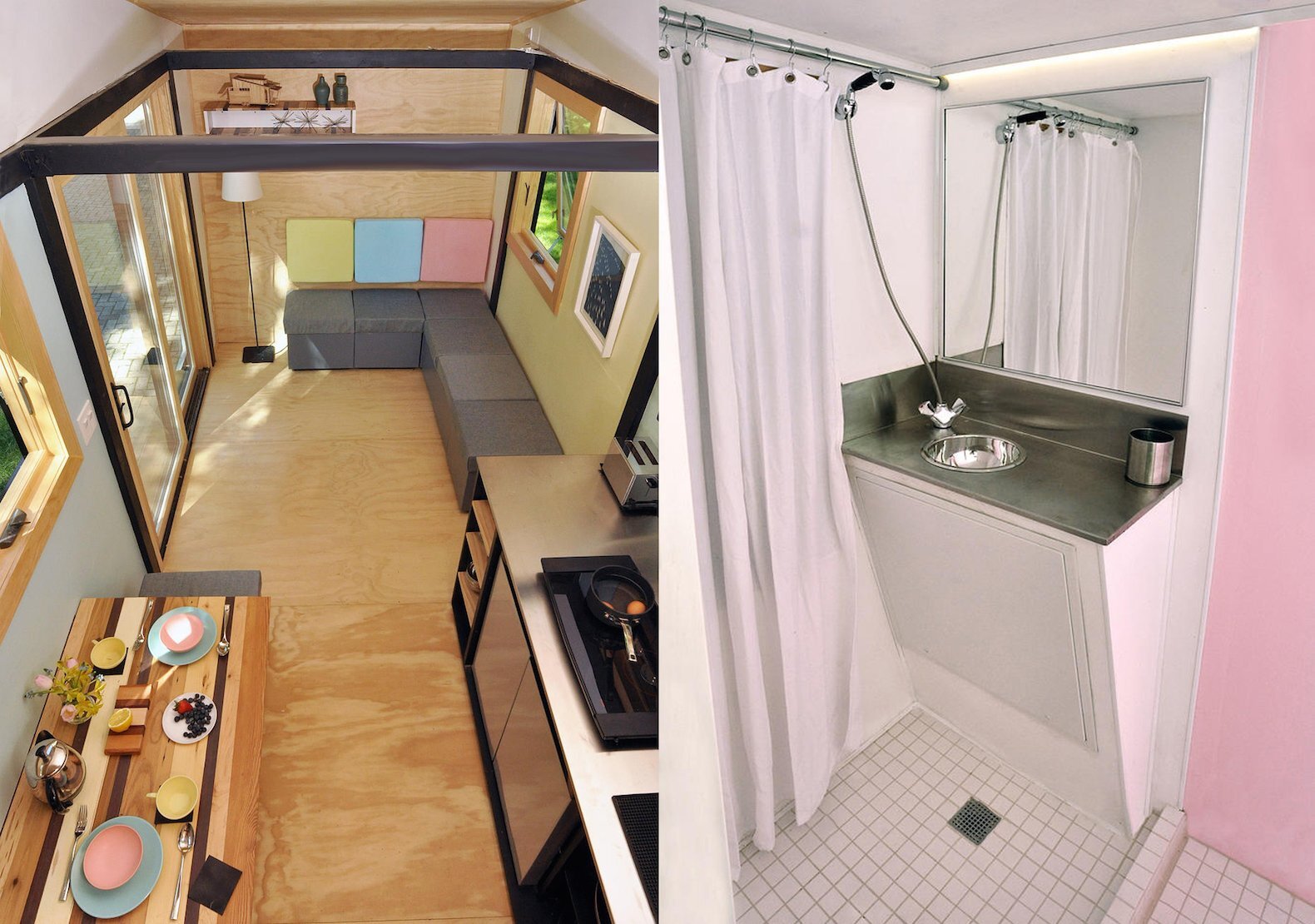 The kitchen is simple and functional. It contains a stainless steel counter with a portable induction hob, small sink, under-counter refrigerator and freezer, toaster oven (or microwave) and storage cabinets. I think my favorite aspect of the kitchen is the backlit herb and spice rack that hovers over the counter. There's also a hidden pantry built into the bathroom partition wall.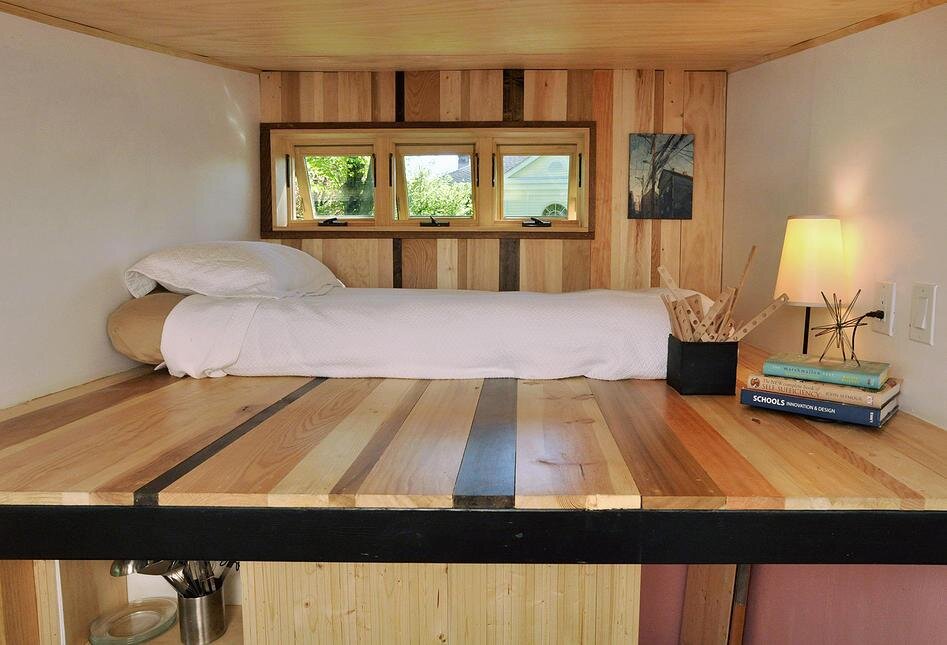 The bathroom features a walk-in shower with a clever marine facet that doubles as the shower head. A ladder leads up to the sleeping loft that's capable of accommodating a king size bed. All in all, the Toybox Home is a real work of whimsy and minimalism. It's also up for sale and could be yours for $48,000.
For more tiny houses check out Hope Island Cottages, which features a tiny house on wheels with a sauna. Or, this tiny house in Haringey, England, by Satish Jassal Architects. See all tiny houses.