This tiny, 12 square meter (129 square foot) apartment set in the heart of Paris was purchased by two violinists in 2013. The apartment originally consisted of an empty room with no electricity. To turn it into a habitable space the owners contacted the Paris-based studio, Julie Nabucet Architectures.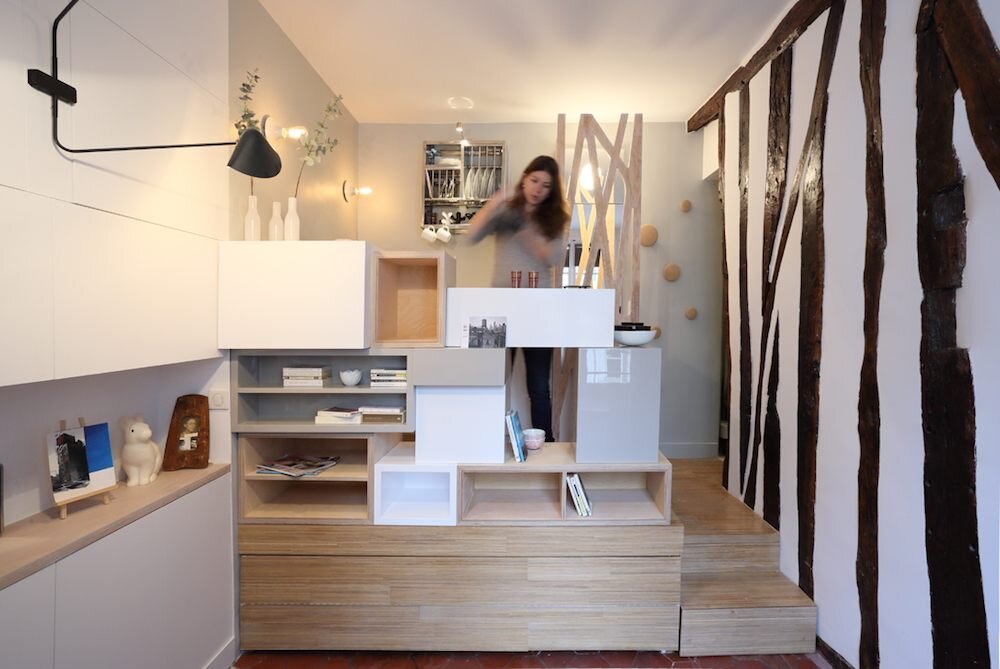 The restoration of the space had to be carried out on a limited budget. Luckily, the apartment didn't require any structural work, but some rewiring and smart interior design to transform it into a chic, functional and comfortable living space for two.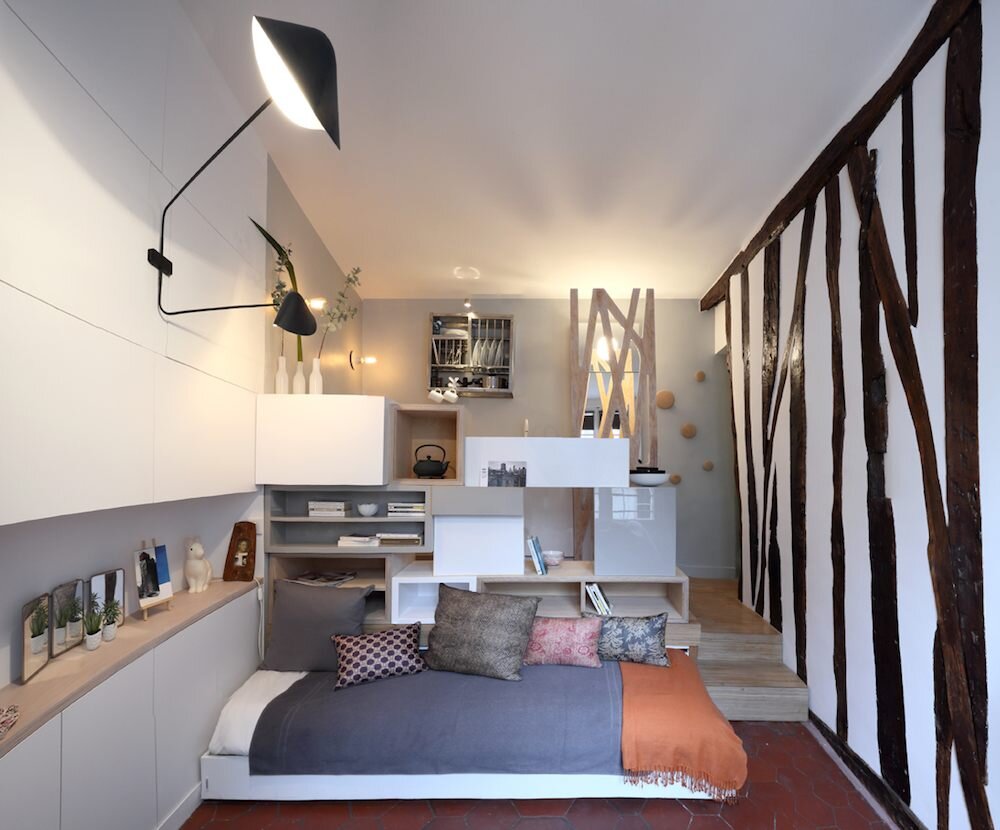 The main challenge with this project was how to incorporate a living room, bedroom, and kitchen within the confines of the floor plan. To overcome this Nabucet raised the level of the kitchen, allowing the bed/sofa to be stowed away when it's not in use (the same design solution featured in the Athru tiny house). The adjacent steps to the main living area can also be pulled out to reveal extra storage space.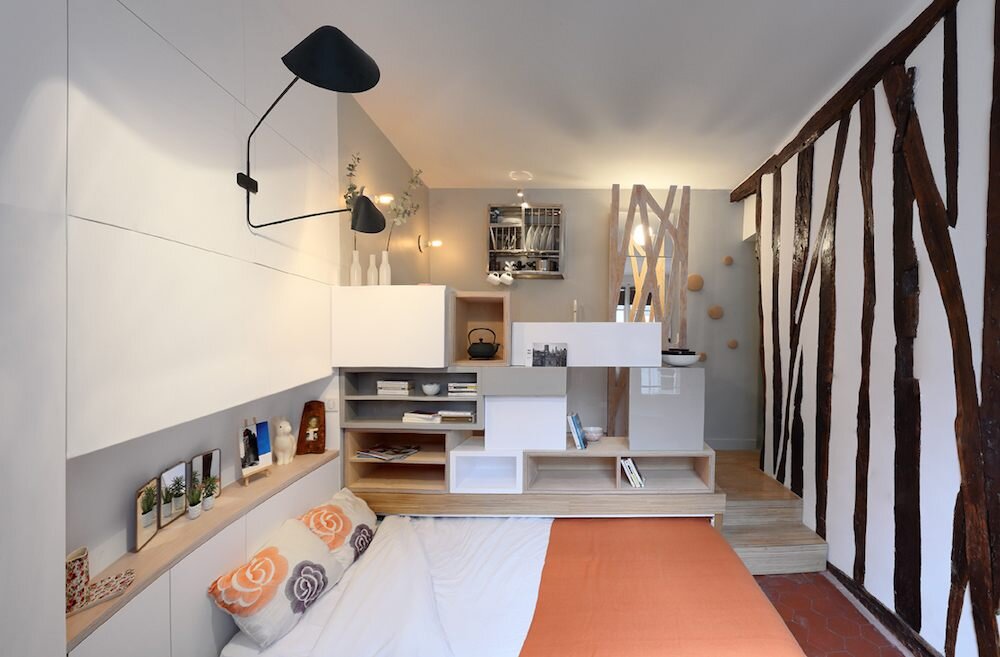 With the kitchen, living room/bedroom problem addressed, Nabucet was then able to concentrate on the more cosmetic aspects of the project. The tiny apartment is finished with mostly white walls, broken up by the timber framing seen in the living room, also creating a sense of history in an otherwise modern development.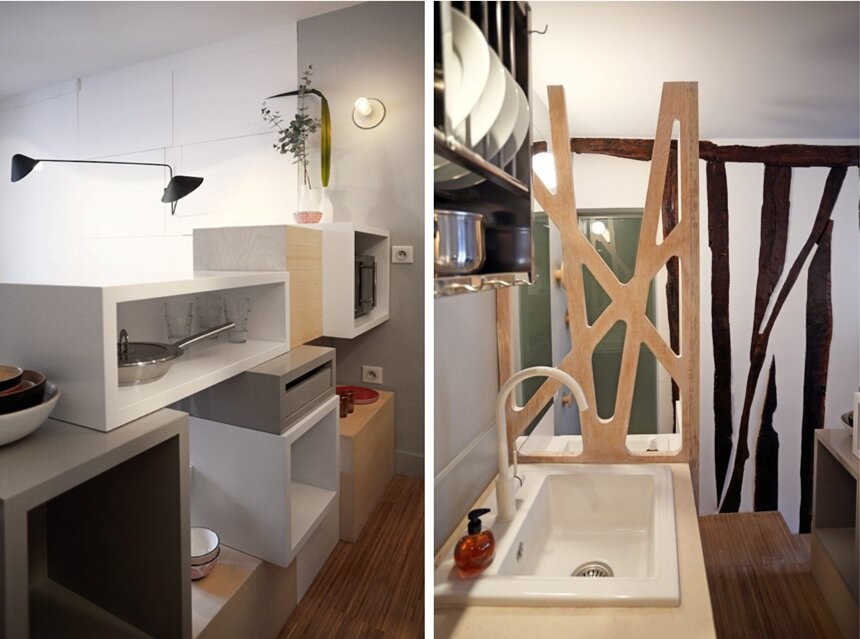 The kitchen and living area are separated by a funky "bar" composed of a series of differently sized and shaped boxes. The bar serves as a functional storage unit, as well as a furniture piece itself. One wall of the living area dedicated almost entirely to storage, broken up only for a shelf at waist height.
The bathroom contains the toilet and an open shower. To save space in the bathroom, the sink has been moved to the kitchen area where it's partially separated from the other kitchen units and appliances by a plywood screen with triangular cut-outs. The apartment is an example of how a small space can be both functional and attractive on a small budget.
For more apartments check out Appartement Spectral, a super minimalist home by Betillion / Dorval‐Bory. Or this small 320 square foot apartment that features funky, functional storage and furniture units. See all apartments.
Via LifeEdited
Photos: Sylvie Durand