Hinkle Farm can be found on the suburbs of Washington D.C. and the Shack is the latest addition to a large and historic property. The small retreat is a rustic but comfortable getaway for a family that's set on the southern slope of the South Fork Mountain in West Virginia.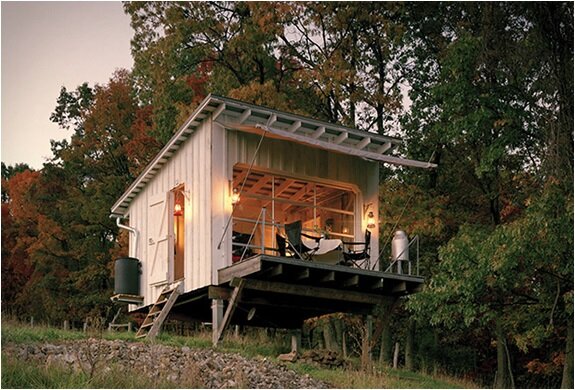 The Shack is set on a 27-acre site that was originally part of a much larger homestead that had been created by the Hinkle family in the early 20th century. The land was later abandoned, leaving behind a farmhouse and the Hinkle family cemetery.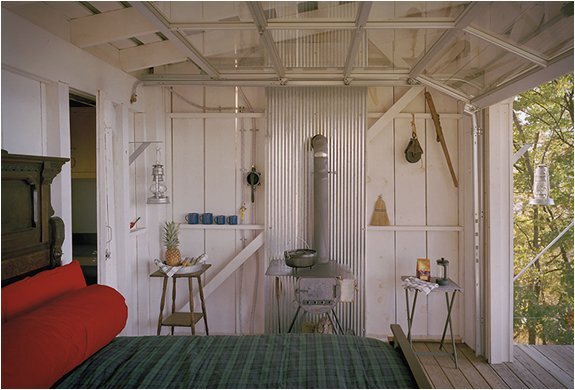 The Shack aims to provide a bridge between camping and the weekend cottage, in ways, it's almost a glamping retreat. The back-to-basics shelter doesn't have any electricity, instead oil lamps are used to provide light at night, and a small wood is used to heat the space and provide hot water for use in the kitchen.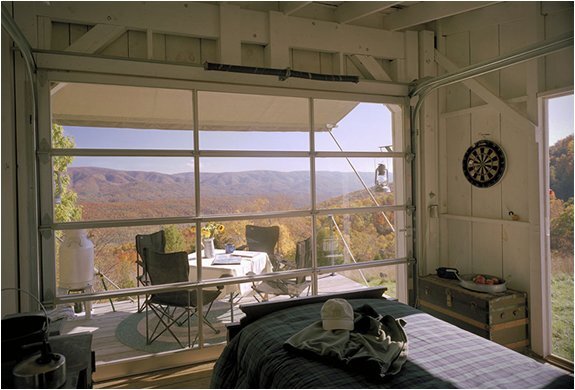 As there is no running water in the Shack, the kitchen sink operates off of a gravity-fed system. A hand-powered bilge can be used to fill an overhead storage tank in the kitchen. Rainwater run-off is collected from the roof so it can be filtered and stored for use in the outdoor shower.
The entire structure is raised off of the ground level to prevent rodents from infesting the interior. It also features several rodent barriers for good measure. The exterior board and batten siding has been milled locally and the roof is sheathed with a standing-seam steel coated with terne.
The front end of the Shack features a cantilevered wooden deck with a small overhang providing some shelter from the rain. The entire front wall is "clad" with an aluminium and glass garage door that can be raised and lowered to open up the interior, or to shelter it from outside weather.
For more retreats checks out Scott NewKirks tiny 300 square foot off-grid cabin in the woods of New York. Or Megan Lea's sustainable backyard retreat that features a variety of eco-products and design techniques. See all retreats.
Via Trendir
Photos: Broadhurst Architects Inc