A group of designers and DIYers teamed together in Tennessee to create the tiny house company, New Frontier Tiny Homes. Their first home, dubbed the Riverside Tiny House, takes inspiration from Scandinavian architecture.
With a footprint of just 246 square feet (23 square meters) there's not a lot of space to spare, but they've managed to incorporate all the amenities and most of the mod-cons you'd find in a normal home.
The exterior is clad with wooden shiplap siding that's finished in a deep blue. The inside finish is much lighter with sheets of blonde wood panelling lining the walls and roof. All told it contains a living room next to the front entrance, a dining area, kitchen, bathroom and a sleeping loft.
There's also a small front porch and an outside kicker box for storage. The kitchen comes equipped with a two-burner cooktop, a sink, an under-counter fridge-freezer, and an array of cabinets and shelves. The cabinets were custom built, allowing for a "perfect fit".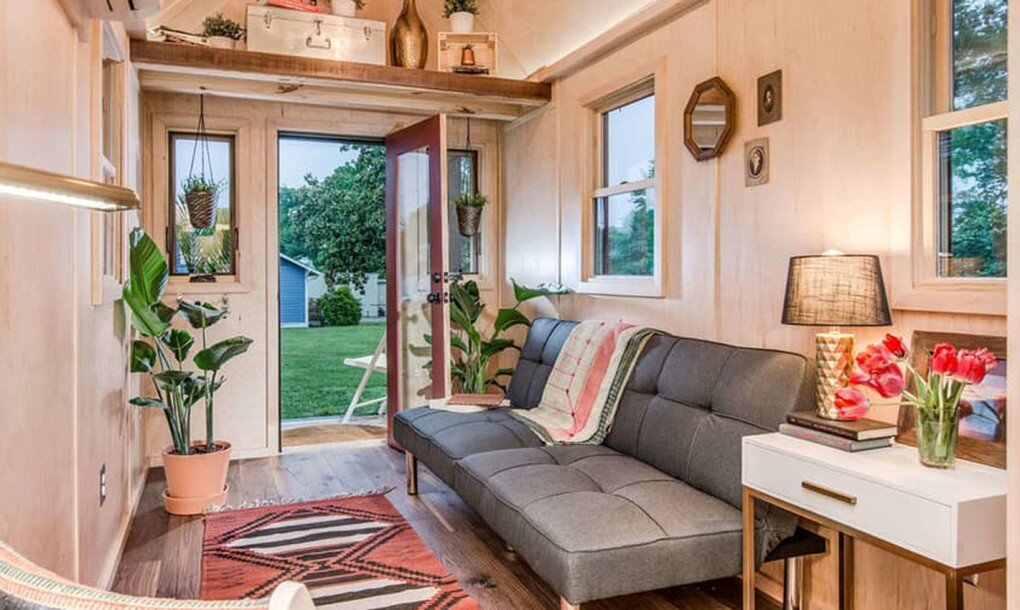 The bathroom, found opposite the kitchen, makes use of a composting toilet and a stainless steel shower cubicle. The loft, found above the kitchen and bathroom, can accommodate a double bed with ease, leaving some elbow room at the sides.
The loft is accessed by a ladder – a little old-fashioned by modern tiny house standards, which seem to focus on incorporating staircases and downstairs bedrooms, but when accessibility isn't an issue, it's still a popular option thanks to its space-saving nature.
They've opted for a tankless propane hot water heater, which is a compact solution that allows for an off-grid lifestyle (provided you've got electrical power). For heating the temperature can be controlled by a Mini Split HVAC. If you're interested the house is on sale for $79,000.
Via Inhabitat
Photos: New Frontier Tiny Homes