Called the Pump House and designed by Branch Studio Architects, this compact dwelling is both eco-friendly and off-grid. Branch Studio Architects created the design on the behalf of their client, a carpenter who decided to undertake the construction of the house by himself.
The Pump House is located in rural Victoria, Australia, and is set amongst the rushes of a small lake. The house inherited its name from its previous purpose – it was originally built as a storage space to hold a water pump and farming equipment.
Branch Studio Architects decided to work with the existing structure while also adopted it to serve as a fully functioning home. According to the architects, the shed-like structure evolved into a more extravagant building due to the craftsmanship and skill of the owner-builder.
The exterior of the Pump House is clad with corrugated iron and is finished with some wood-detailing in the recessed porch area. The interior has been finished simply with low-grade plywood and rough-sawn timber. The chosen materials were selected due to their affordability, helping to minimise the overall cost of the quaint retreat.
The house is completely off-grid and self-sufficient. It has a variety renewable and green features including rainwater capture and storage, solar panels for any electrical needs, and a wood burning stove that provides more than enough heat for the small space.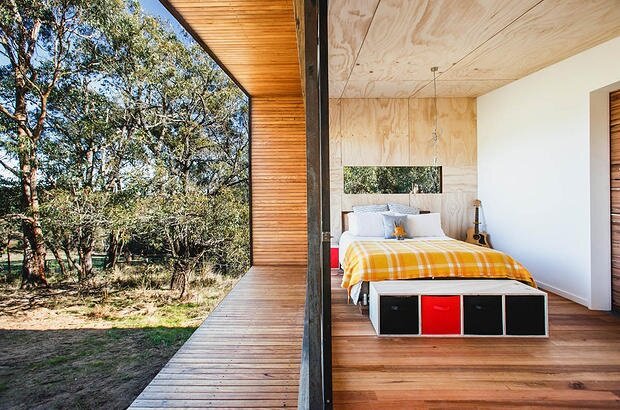 There are floor-to-ceiling windows on both ends that can be opened up to the surrounding environment, providing panoramic views, natural daylighting, and ventilation. The interior is a simple affair and contains a living and dining area, kitchen, bathroom and bedroom.
For more off-grid houses check out this prefabricated tiny house called the MiniMOD by MAPA Architects. Or this small island house that opens up to the surrounding forest. See all off-grid houses.
Via Inhabitat
Photos: Branch Studio Architects