I'm somewhat overdue in posting about this small house company. I've been aware of them for some time but never quite got around to it. Shame on me.
Nomad Micro Homes (NMH) has created this small modular house, the Nomad, that's manufactured in British Columbia, Canada. NMH was created by Ian and Joie Kent – a husband and wife team that combines Ian's design experience with Joie's background in real estate.
Nomad Micro Homes has produced one of my favourite small house designs. The Nomad isn't designed to be mounted on a trailer like a tiny house on wheels, but is constructed on a small, low-impact foundation. And because it's a permanent structure, the dimension limits of a trailer don't apply, freeing up the design. This is evident in the insulation value of the walls and roof – R20 and R28 respectively. It's pretty rare to come across a tiny house on wheels with similar R-values; there's only so much insulation you can fit into a 2×4 wall.
The mirco-home features all you need to get by (and more) with a living area, kitchen, and wet bath with a hand-held shower. The loft of the home is reached by an open suspended staircase that doubles as shelving for the kitchen. The loft contains enough space for the sleeping quarters and storage/shelving units. Another neat feature of the loft – it's open on both sides of the bed, brightening both the main floor and the loft.
Nomad Micro Houses are offering three models of their home, Nomad Space, Live, and Zero. Space is a base model that includes "living roon, kitchen cabinets, stair and shelving, bedroom and storage alcove, wood laminate flooring, lighting, and prewired electrical outlets". The Live and Zero models contain additional options that go so far as allowing you to live off-grid. Pretty cool.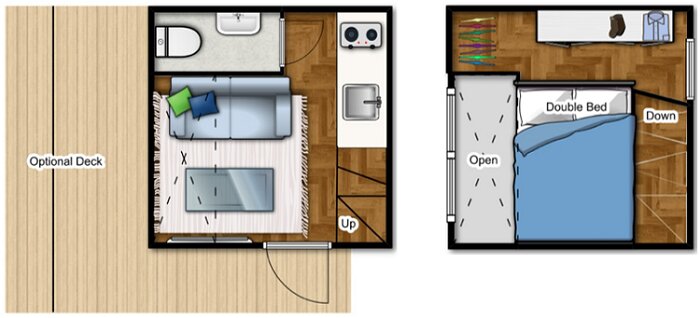 The starting price for these homes is $25,000 Canadian, plus taxes and shipping. Pretty good bang for your buck if you ask me (or, for any Canadian readers, pretty good bang for your loonies).
Similar tiny houses designed for off-grid living include the Diogene Cabin by Renzo Piano, and Innermost House, an amazing tiny house that features no electricity or running hot water.