This futuristic capsule hotel can be found in Kyoto, Japan. Called the Nine Hours hotel, it features state-of-the-art sleeping pods that are available for nine hours. The design of the minimalist hotel was led by Masaaki Hiromura and Takaaki Nakamura of Design Studio S.
Capsule hotels are neither new nor a novelty in Japan, they've been around since the 70's, providing late-night workers or people that have missed the last train a source of accommodation for the night. In the past capsule hotels received a name for acting as a refuge for drunks. Nine Hours hotel seeks to change that perception with its sleek, modern interior. It's also located in the city's geisha Gion district, making it a popular choice among tourists seeking the sleeping-pod experience.
The hotel provides its guests with a 9 hour stay – one hour to get ready for bed, seven hours of sleep and another hour in the morning to get up before checking out. The hotel has a total of seven floors with separate floors and elevators for men and women.
The pods include a special Panasonic system that's designed to help guests fall into a relaxing sleep, only to wake at a set time by mood lighting. There are also lockers for items of clothing and accessories, and a communal shower area. Guests are also able to book extended stays; a 24-hour visit costs $49.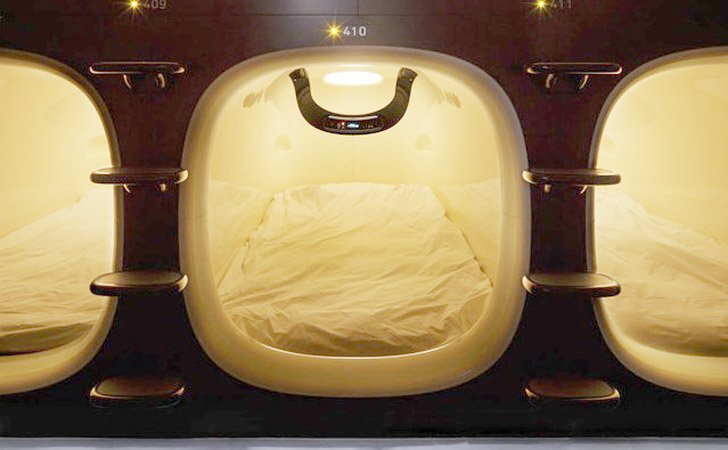 Would you be able to spend a night in these coffin-sized pods, or is it a downsize too far?
For more spaces check out Sleepbox, a mobile hotel room designed by the Russian architecture studio, Arch Group. Or this elegant little getaway simply called "The Hut" by Japanese architects, Koji Kakiuchi/Yaomitsu. See all spaces.
Via Inhabitat
Photos: Akihiro Yoshida