This tiny home has been developed as a luxurious off-grid retreat. The unit has been titled "Ark Shelter" and was designed by a group of architecture students with a flair for entrepreneurship.
Ark Shelter's size allows it to be transported with ease by a truck to almost any location. Prefabrication keeps the build process to a tight schedule, with construction occurring under factory conditions.
The aim of the team behind the project was to reintroduce people to a "back to basics" setup, immersing them in nature. Its size – like most tiny houses – lends itself to an outward-looking home, focusing on its surroundings to improve the sense of space.
The exterior is clad in a mix of dark and light timber. It's simple cuboid shape allows for ease of construction, transportation and maximizing functional space on the inside. From the designers: "[The Ark House is] a cocoon without TV, a silent place to appreciate nature we lost touch with and a cozy house to find yourself"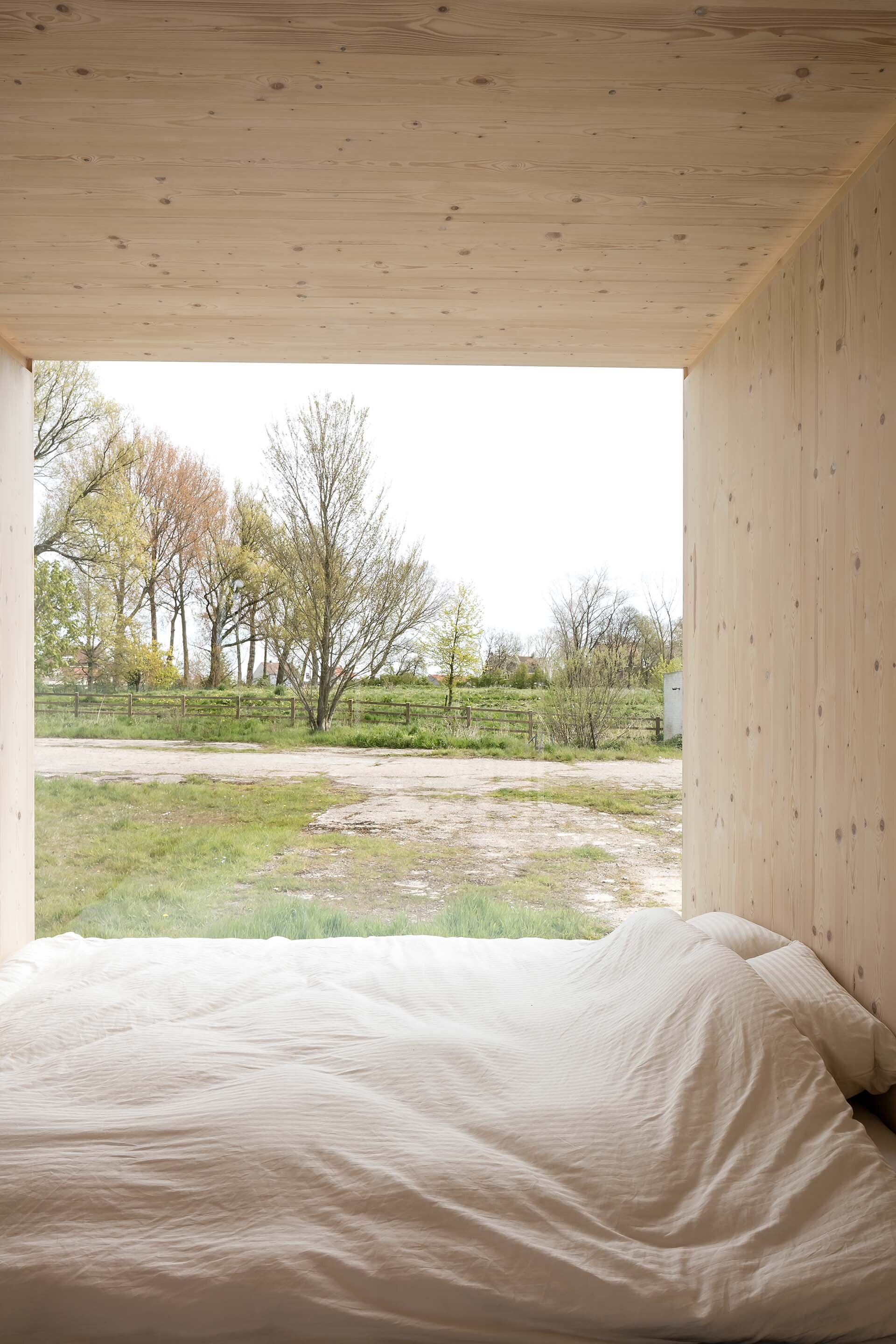 The interior is finished in pine, from the floors, walls and ceiling to the actual furniture pieces. The large gable-end window and side bay patio doors help to take advantage of natural light, while also maintaining a connection with the outside environment.
One end of the Ark Shelter is dedicated to the "bedroom". The opposite end is taken up by the bathroom and kitchen. Separating the two sections is a small dining area that's placed in front of a wood-burning stove.
According to the designers the structure is modular, allowing it to be expanded and customized as needed. Each Ark Shelter comes equipped with wind turbines and a rain water collection system. Unfortunately there's no mention of cost on the website – you have to contact the team directly. I'm assuming the price will be based on the amount of interest they garner.
For more tiny houses, check out Harmony House, a cozy and colorful tiny home from Nova Scotia. Or, the Birdhouse, a 10-foot-wide home from Asheville which you can rent out. See all tiny houses.
Via Inhabitat
Photos: Ark Shelter