This property in Vietnam has been designed to create an air of Zen for its owners, a Buddhist family. Set within the bustling city of Sai Gon, the home acts as a retreat from everyday life. A local firm by the name of H.A. Architecture were contacted by the owners to implement the project.
The house is set on a relatively narrow strip of land and features no less than four floor levels. The family challenged the architects to create a place of peace and tranquillity, so its no surprise that the designers turned to religious buildings for inspiration, particularly monasteries.
The project, dubbed Zen House, is finished in simple materials. It makes great use of unrefined brick, wood, unpainted cemboard, and iron. It's the regularity and simplicity of design that helps to create the calming interior. They also carefully play with natural light to create a mix of dark and light spaces that change over the course of the day.
The interior design is like a home within a home. The staircase connects the various levels to one another, and providing access to the individual rooms. The living room on the first floor is open to the home's roof four stories above, creating a sense of scale and reinforcing home's monastic roots.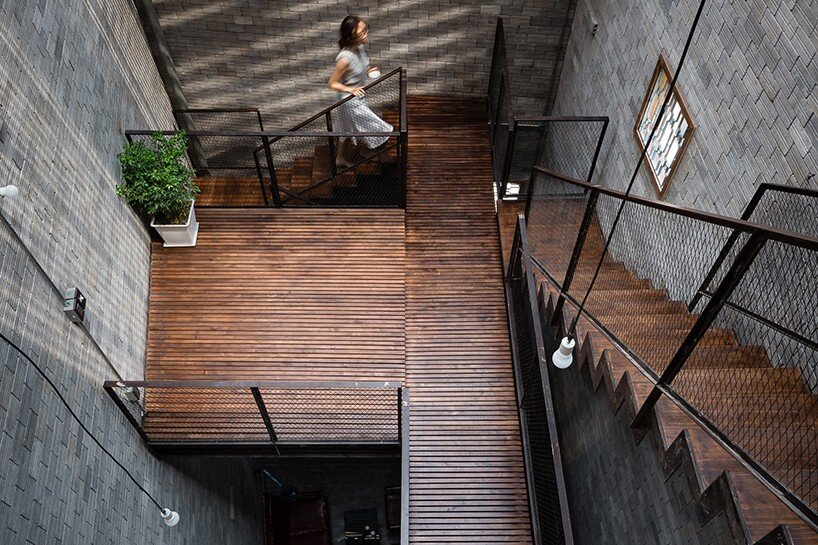 The first floor of Zen house contains an open planing living room, dining area and kitchen. There's also a toilet and laundry station adjacent to the kitchen. The entrance is garnished with a small garden to the front of the property. The second floor, accessed by a walkway and features the first of two bedrooms, complete with their own en-suite.
The third floor is a replica of the second, featuring another bedroom with an en-suite. However, it also contains a suspended deck area that floats above the living room on the first floor. Continuing up to the final level of Zen House reveals an altar (again, complete with its own toilet).
For more small houses check out Loft Grandpa, a 1950's workshop conversion for a 92-year-old grandfather. Or, this home from Taiwan that features interior partition walls of glass. See all small houses.
Via DesignBoom
Photos: Quang Tran