This concept design by the British firm, Bill Dunster Architects, aims to take advantage of car parks, transforming them into environmentally friendly building developments.
The design, dubbed the ZEDpod, would feature a mix of green technologies and make use of prefabrication. By building large components off-site in factory conditions, the units could be installed relatively quickly. The architects mention that a ZEDpod village could pop-up over the course of a weekend (I'm assuming they're ignoring all the ground work in that case).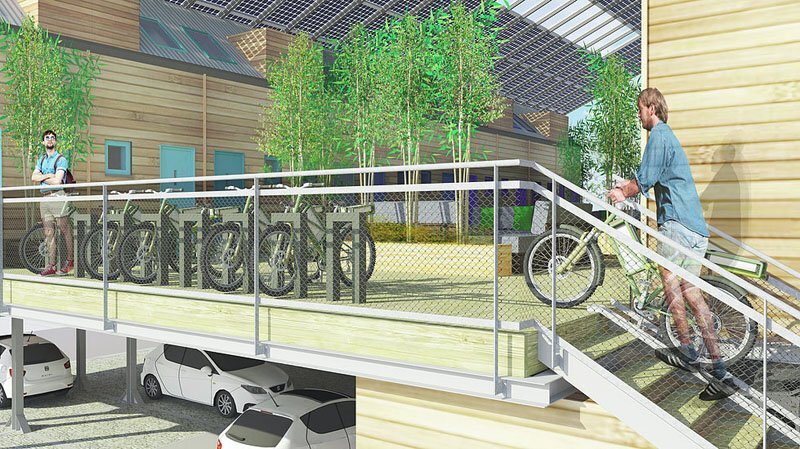 Solar panels have been integrated into the roof of the development in order to reduce, and possibly eliminate the occupants dependency on the grid. It's envisioned the the PV panels will be responsible for powering not only the homes, but also electric cars and bikes.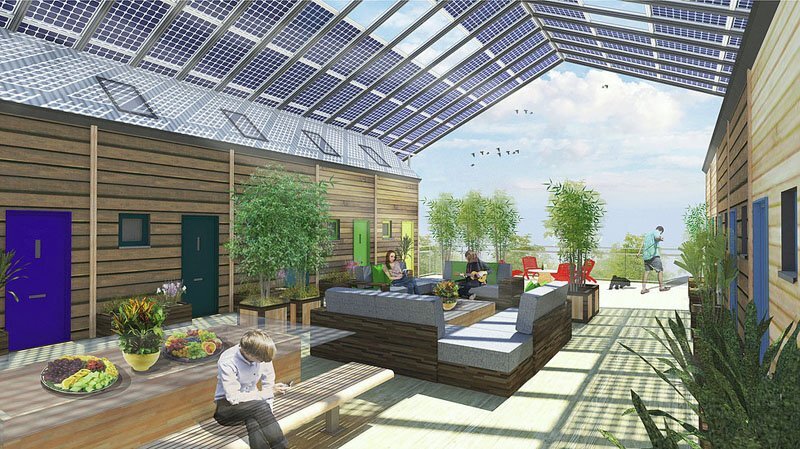 When joined together, the ZEDpods form a sheltered central outdoor space. The space can be enjoyed by all the residents and it provides an opportunity to socialize with your neighbors. It's depicted in the renderings as having lots of greenery and outdoor seating, much like a courtyard.
The individual housing units are designed to cover approximately two car parking spaces. This gives the basic pod an area of 236 square feet (22 square meters) to play with. If you need more space there is a larger alternative that measures 645 square feet (60 square meters).
A cross-section through the ZEDpod reveals its interior layout. The first floor is largely an open plan, multifunctional space, with a living room, dining area, kitchen and separate bathroom. The upper level serves as a bedroom and overlooks the living area below.
For more small houses check out this amazing home that's set on a cliff top in Chile. Or, "The Eels Nest", a small house from that takes inspiration from narrow Japanese homes. See all small houses.
Via Contemporist
Photos: Zed Factory