Vince Sorgentoni and Sam Adams wanted to pursue a lifestyle with a lower carbon footprint. To make that wish a reality they contacted Wishbone Tiny Homes and tasked them with creating a small, functional and environmentally-friendly tiny house on wheels.
The result of their efforts is a 204 square foot (19 square meters) home that's powered by roof-mounted solar panels and is capable of going off-grid. They've dubbed the house Z Huis.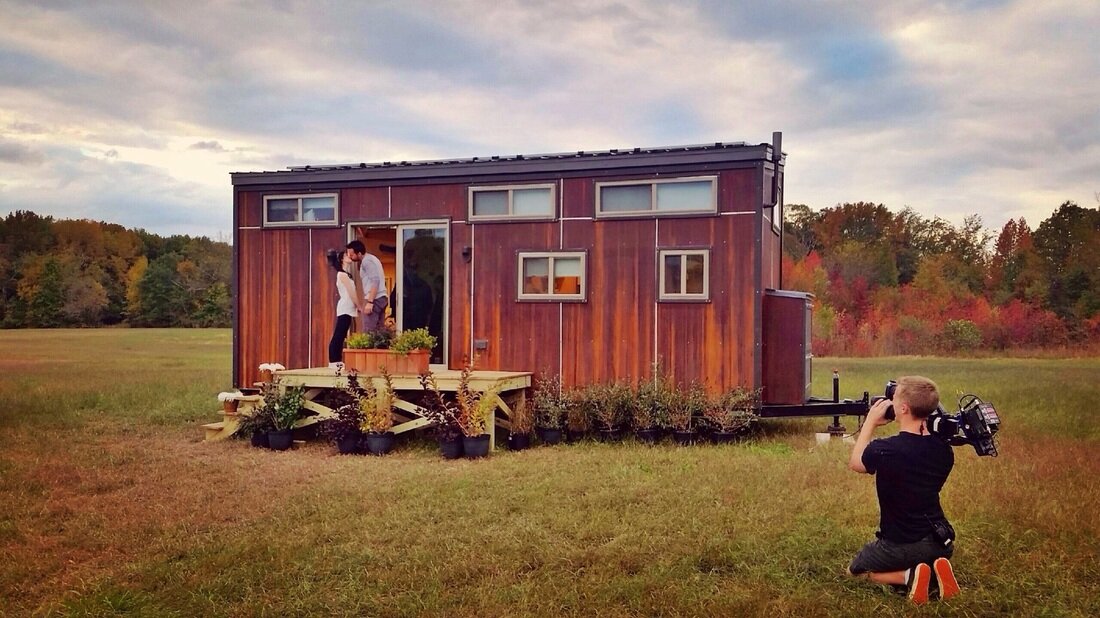 The exterior looks to be clad in Corten steel, while the interior is finished in a mix of light (mainly plywood sheeting) and dark woods (the floor). Colorful strips of geometric wallpaper can be found in the bedroom areas and the kitchen.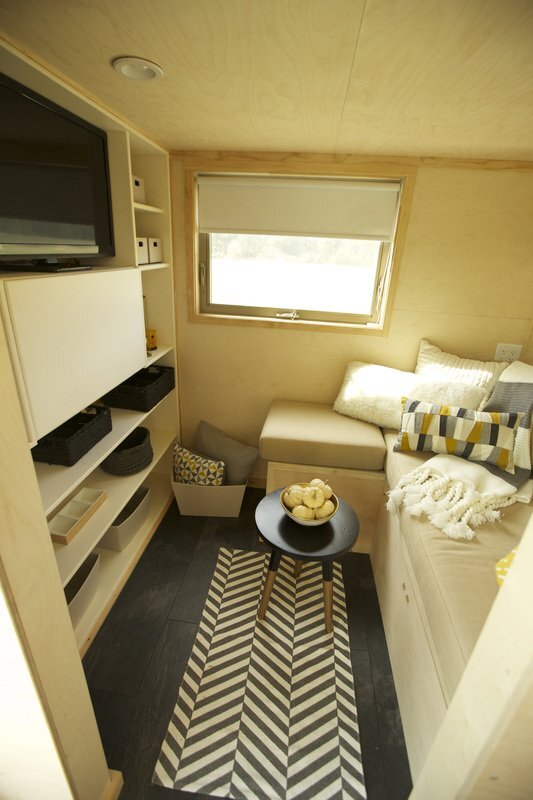 Z Huis features two sleeping lofts, one of which is accessed by climbing a rock wall. When the couple collaborated with Wishbone Tiny Homes to build the home, they said they wanted it to reflect their outdoorsy lifestyle (hence the climbing wall).
Storage has been incorporated into every nook and cranny available, like the dog crate found under the stairs. The combination of fun elements and function can be found in every room.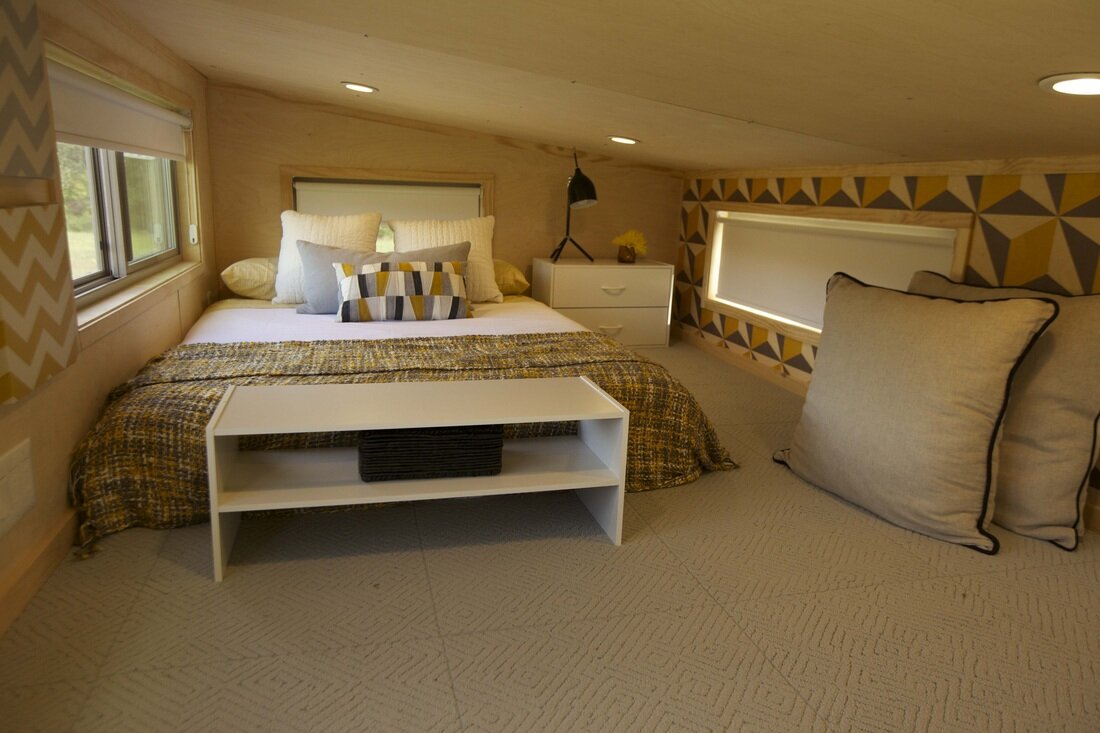 The first floor of the unit contains a sunken living area, a generous kitchen, and a bathroom. Lighting doesn't seem to be a problem thanks to a number of relatively small but well placed windows. Given their preferences for a low-carbon lifestyle and an off-grid home, they've installed LED lighting throughout.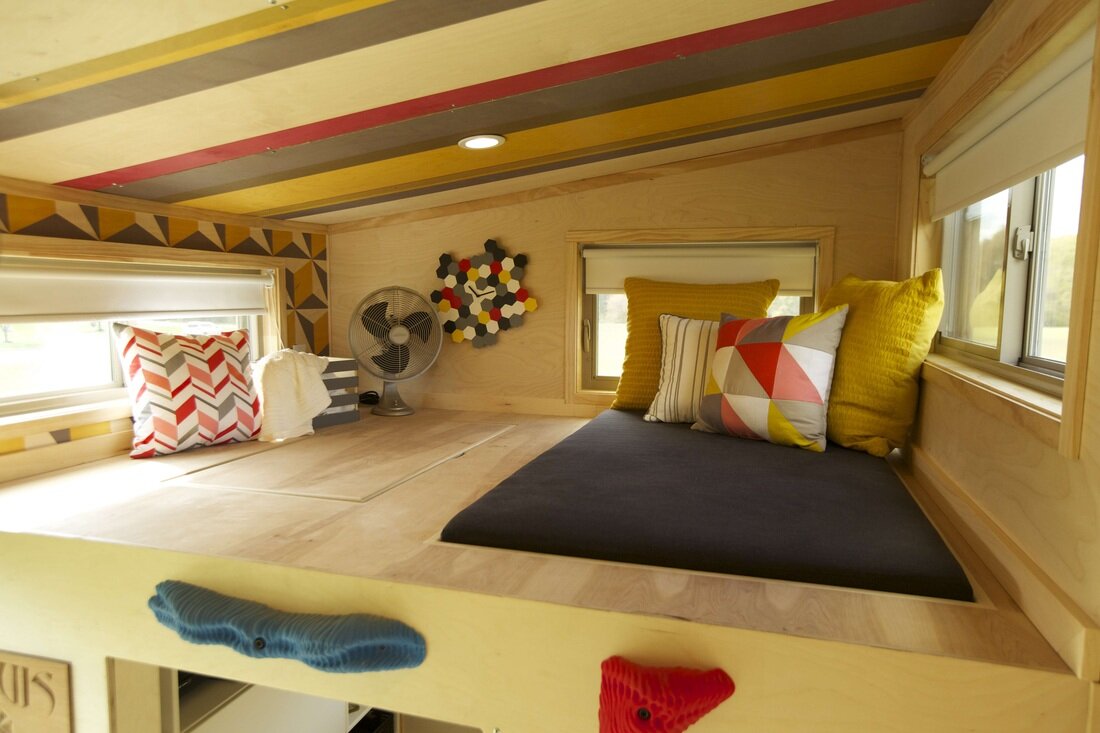 Unfortunately they eventually had to sell the home because they were unable to find a place parking space near their workplace and school in Philadelphia. Wishbone Tiny Home are still producing the Z Huis model. It's available for $65,000-$75,000 and they can apparently have the homes ready in as little as 7 days.
For more tiny houses check out Ark Shelter, a tiny modular home designed to help people reconnect with nature. Or, Maringotka, a traditional caravan transformed into a cozy home. See all tiny houses.
Via Inhabitat
Photos: Wishbone Tiny Homes