This small apartment concept was recently revealed by entrepreneur Simon Woodroffe. Woodroffe, who is responsible for starting up the the YO!Sushi and YOTEL chains, has dubbed the latest addition Yo!Home. The design aims to fit all the features of a two-bedroom house into a small apartment.
As you would expect, the interior finish is contemporary throughout, with a lot of the apartment's features being hidden behind doors and panels. There's no sign of a window in this concept design but plenty of appropriate artificial lighting have prevented the space from being dark and dingy – no doubt the real version of this home would include a few windows.
Yo!Home contains a large sunken living room with loads of seating that forms a u-shape. Set above the seating area is the bed. It's inset into the ceiling, and at first glance appears to simply be a decorative feature. The only give away are the two tracks in the wall that support the frame. A mechanical system hidden behind the back wall allows the bed to be lowered and raised with ease, transforming the space into a bedroom.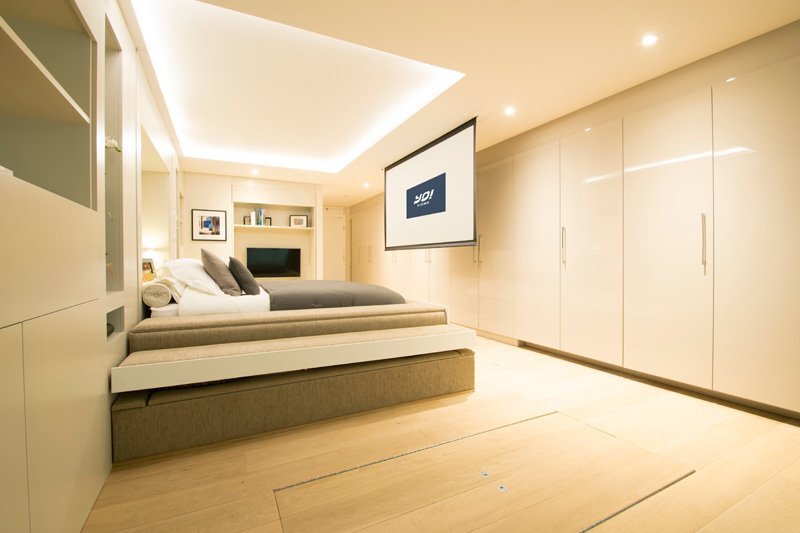 A dining table is concealed within the depth of the raised floor. The two floor panels covering the table can be flipped round to create seats, and the table, which is large enough to accommodate four people, pops up from the center.
The entire kitchen can also be closed-off or revealed thanks to a series of doors. Closing it off allows Yo!Home to maintain its uncluttered look. It's a simple galley kitchen with everything you'd expect to find in a modern home. One other feature is the living rooms ability to be transformed into a home cinema – a screen drops from the ceiling and is used in conjunction with a projector in the back wall.
All in all Yo!Home contains two bedrooms, a living room, a home cinema, an office, a bathroom, a kitchen, adining room, and a wine cellar. It also has the ability to be reconfigured with a series of moveable partition walls, allowing you to customize spaces as you see fit.
For more small apartments check out this tiny condo in New York that makes the most of its small footprint with a mezzanine. Or, this funky micro-apartment in The Netherlands. See all apartments.