This small house is located in the ski resort village of Hakuba, Japan. The house has been designed by the Tokyo-based firm, Naka Studio, who aimed to create a home which would serve the needs of the clients throughout all of the seasons, not just winter.
The total living space is actually much larger than the physical footprint of the home. The house features a large exterior deck that's suitable for both summer and winter use.
The deck is sheltered by a clear plastic roof, and during the summer it can be left completely open to the environment. In the winter when the temperatures plummet, plastic sheeting covers each perimeter "wall" of the deck area, enclosing it and almost making it an extension of the main home.
Due to its ability to adopt to the season, furniture can be placed in the sheltered deck to create a year-round living space. Despite the main house's small footprint, the multifunctional deck almost doubles the total living area. One corner of the deck features a small pod that contains a soaking tub, and a sauna. The remainder of the space can be configured to suit the owner's needs.
The main house features an all-wood décor. The variety of different wood types and the timber floor joists, and roof beams being left visible creates a warm and inviting atmosphere. It also pays homage to the woods surrounding the home.
The building has two floors, the ground floor contains the home's public spaces – the kitchen, and living room. The public areas also have the largest windows in the building. The upper floor contains the private areas of the home (bedrooms) and hence has much smaller windows to provide a greater degree of privacy. Despite the reduced window size, ample natural light filters into the space due to the transparent roof sheeting.
The kitchen is a simple affair and it's probably smaller than some people's kitchen islands. It has a wooden counter with a sink and a small cook-top, supported by a few metal posts and left open to provide storage space.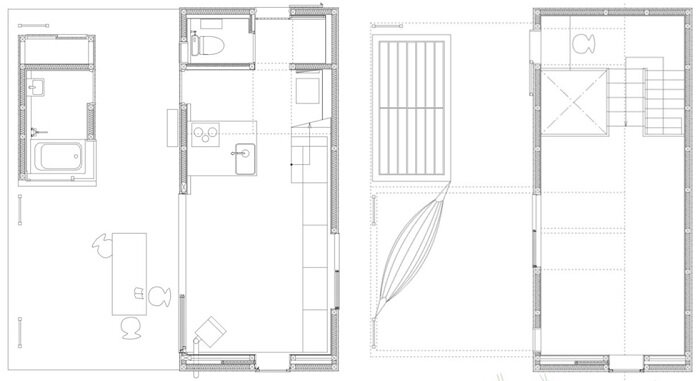 The living/dining room table is built in the same fashion as the kitchen unit, a counter top supported by a few metal posts. A large stove that heats the home can be found in the corner of the living room. The minimalist theme is extended to the lighting; there are no light shades, the bulbs are simply left exposed.
For more small houses check out this ex-army building that's been converted to a cosy chalet in Switzerland. Or the Tower House by Benjamin Waechter Architects. See all small houses.
Via DesignBoom
Photos: Naka Studio