This angular cabin was designed by the Prague-based studio, FAM Architekti. The architects were responsible for the design and overall delivery of the project on the behalf of a client. The building aims to provide the client with a quiet, secluded year-round getaway, that's perfect for their hobby – yachting.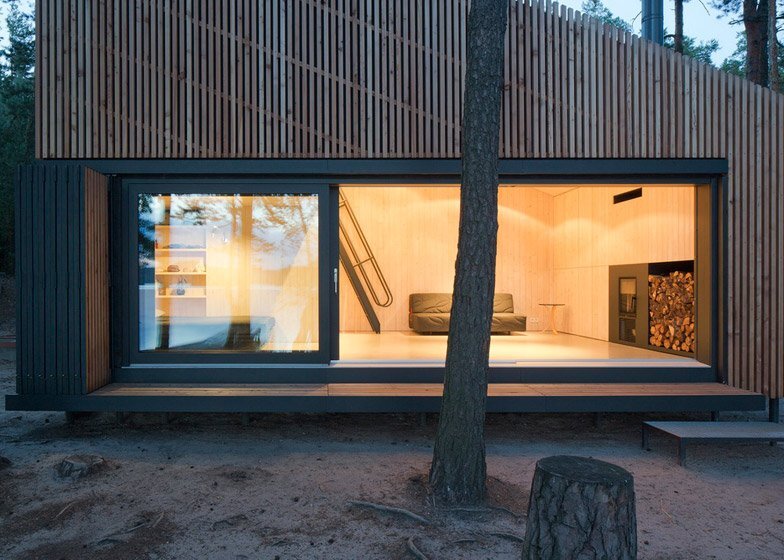 The site was previously home to another older cabin that was built in the 1970's. Unfortunately the existing cabin lacked adequate insulation and facilities. And so, it was replaced with this modern wood-clad minimalist retreat, which according to the architects, has an improved connection with the surroundings.
The exterior of the cabin is wholly clad in timber, and features a sliding timber-slat screen that runs nearly the length of the entire building. Screen serves to provide some additional security when the cabin isn't in use. FAM Architekti tried to incorporate wood elements into the build so it would "respond to its natural context".
The interior of the wedge-shaped cabin is mostly bare (however, it's likely that the photographs were taken before the client "moved in"). The floor has been finished in what looks like a polished concrete, and the walls have been clad with a light wood.
The ground floor is home to a large living area and wood-burning stove, a kitchen and a small bathroom tucked away at the back of the home. The living room sofa can also fold down to accommodate additional guests. It seems odd that so little space has been allocated to the kitchen and bathroom when compared to the living room (they're on the same scale as a tiny house on wheels)
The steel ladders in the living area lead up to a small sleeping and storage loft with a window that looks out into the forest. To speed up the process of construction, prefabricated techniques were employed. Sections of the house were built off-site and then transported and assembled on-site in just a week and a half.
For more retreats check out this unique holiday destination that allows you to "sleep with the fishes". Or, this glass igloo hotel that provides you with night time views of the northern lights. See all retreats.
Via Dezeen
Photos: Tomas Balej