This series of contemporary houseboats can be found in Thailand among the waters of the River Kwai in Kanchanaburi. The project, which was carried out with the help of Agaligo Studio, has been called X-Float and was built as part of the X2 River Kwai Resort.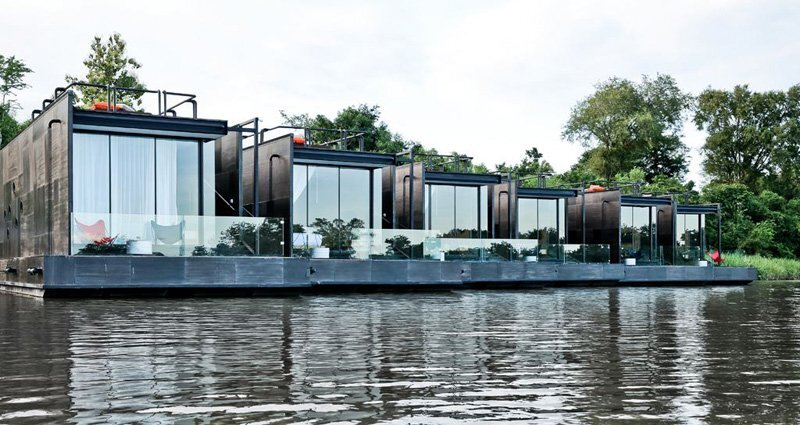 The houseboats draw inspiration from the more traditional floating homes found in the area. They're largely constructed from a steel frame and sheathed in plywood. The plywood is used both as a structural material and as a finish material on the inside of the boats.
Each unit is divided up into two sections: a bedroom/living area and a separate bathroom. The bedroom features large floor-to-ceiling glass windows that provide picturesque uninterrupted views of the river and beyond.
The finish is simple and makes use of contemporary furnishings. The bathrooms are finished like a spa with natural materials such as stone and pebbles being used to create a relaxing atmosphere. The low-level bathroom window looks out onto a small garden of local plants adding to the organic/earthy feel.
The front of the bedroom also features a small wrap-around deck for relaxing on. Alternatively, you could make use of the rooftop lounge which is accessed by an exterior staircase.
For more houseboats check out Carl Turner's minimalist design that can also be set on land. Or, this stylish tiny houseboat by the architecture firm NRJA. See all houseboats.
Via Contemporist
Photos: Agaligo Studio