Designed by the Spanish architecture studio Dom Arquitectura, this home in Barcelona features a host of environmentally friendly features. Dubbed the Wood Studio House, it's located in the region of Sant Cugat del Vallès.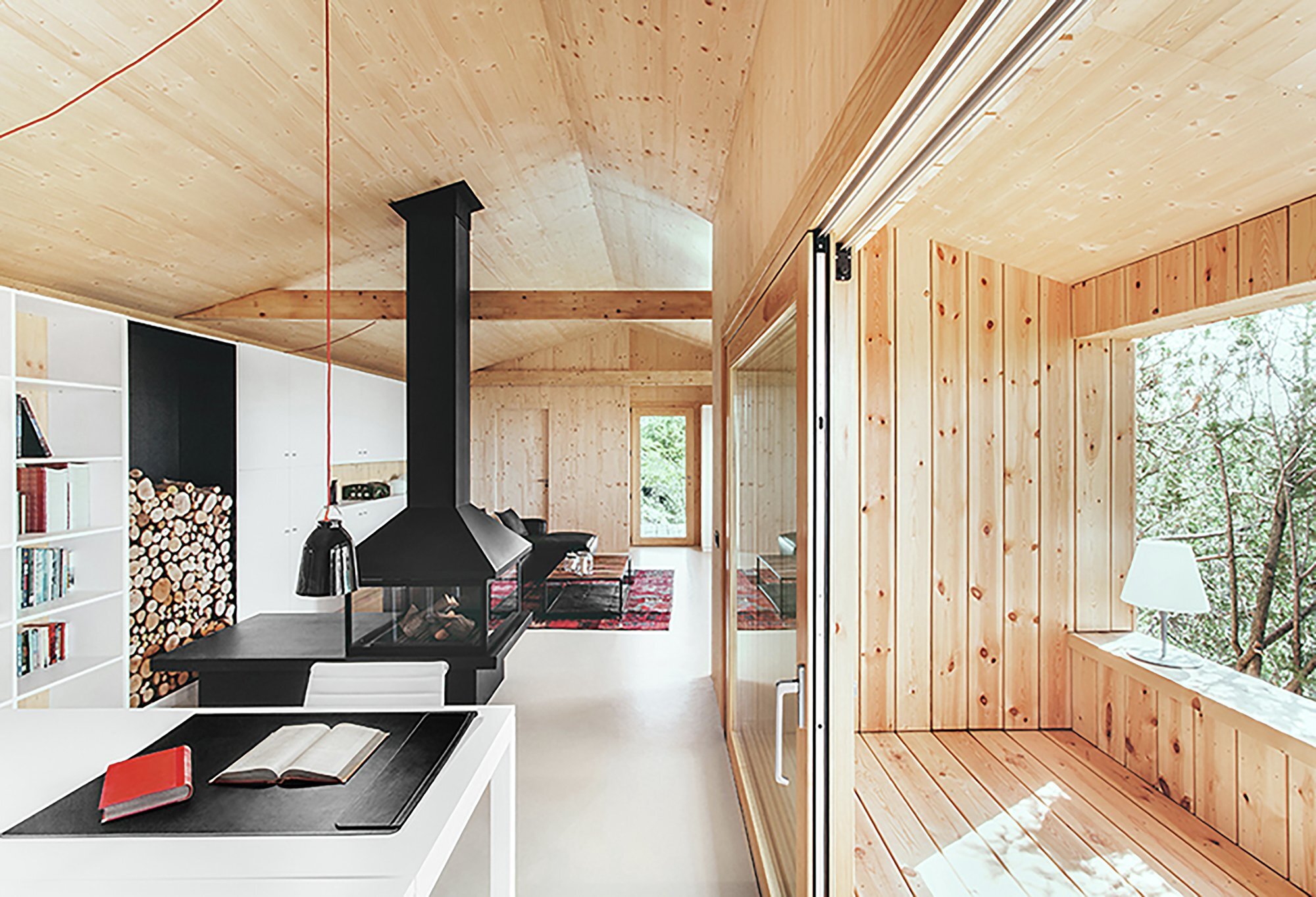 The building encloses a total area of 818 square feet (76 square meters) spread across a single level. The architects have attempted to take advantage of passive solar design. The longest side of the house is southward facing and contains several large window openings, exposing it to plenty of sun during the winter months.
The other faces of the building are mostly windowless, however a few have been introduce to the rear wall. These windows are used to introduce cross ventilation during the summer, naturally cooling the rooms. Rainwater is harvested on site from the roof and surrounding pavements. It's then stored in 7 large water tanks found beneath the house.
The roof is also used to support a series of solar panels that provide power for some rooms of the home (like the bathroom which runs on AC). The green features extend to the living areas themselves – there's an ecological kitchen, which attempts to provide the inhabitants with greater self-sufficiency. Plants and vegetables are planted, grown and harvested from the kitchen, and honey can be fetched from a nearby bee house.
The structure made is composed of prefab timber components that helped to speed up the construction process. Prefabrication was chosen due to the sites restricted access. The interiors are clad with red pine that actually forms part of the structure as opposed to being just a finish layer.
The floor plan is divided up by a central wood-burning fire, with a living area to the right of it and a studio space to the left. Storage and shelving units line the living areas freeing up the rest of the rooms for moveable furniture pieces. The bathroom is found off of the living area, and a sheltered veranda is accessed from the studio.
For more studios check out the Black Box Writing Studio that overlooks Los Angeles. Or, this other writing studio from Norway by Jarmund/Vigsnæs Arkitekter. See all studios.