Called Whisper Cabin, this tiny house is set among the green pastures of Northumberland, Ontario in Canada. The house is classified as a park model home, meaning it's a little bigger than your standard tiny house on wheels and usually requires a permit to travel from one place to another.
Whisper Cabin is the latest addition to Whispering Springs, a glamping destination that features safari tents, park homes and even a few treehouses.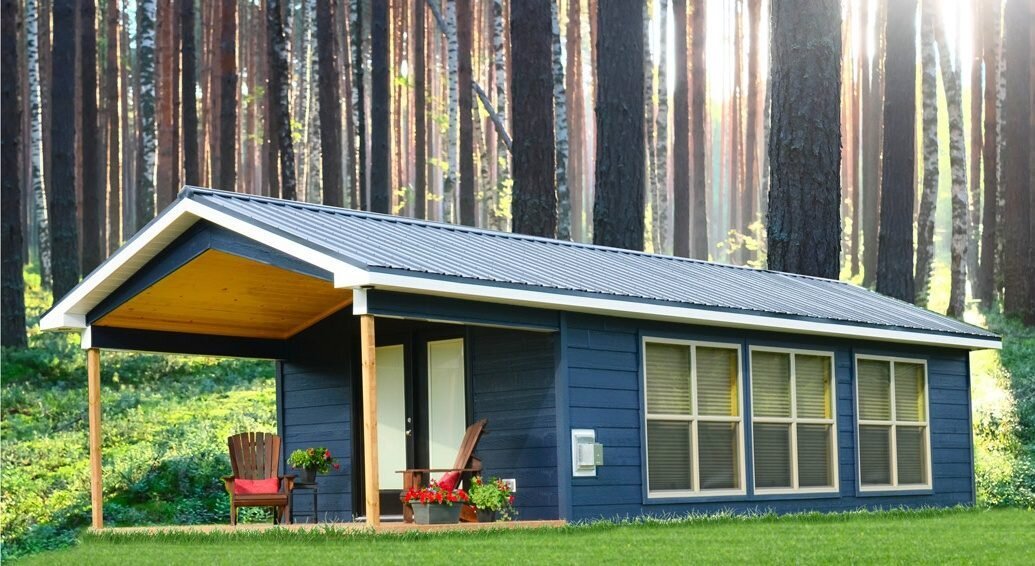 Whisper Cabin has a footprint of 540-square-feet (50-square-meters) with the all rooms spread over a single level. It's a Canadian-built home, and hence, is designed to resist seasonal fluctuations, where the temperature plummets during the winter and soars in the summer months.
The house measures 14-by-40 feet (4.3-by-12.2 meters). The exterior is finished in a striking midnight blue, while the interior is clad with tongue and groove pine. The front of the home also has an expansive porch – perfect for soaking up the views of the surrounding woodlands.
The interior layout allocates approximately two-thirds of the floor plan to an open-plan living room, dining area and kitchen. The galley kitchen should easily cater for the needs of any budding chefs, as it's kitted out with all the mod-con's you'd expect to find in any home.
The living area is formed around a fireplace – an essential for creating an extra homey home. The remaining third of Whisper Cabin is dedicated to the bedroom and bathroom. Both are relatively generous in size. The bathroom can be accessed from both the kitchen area or the bedroom, and contains a separate toilet.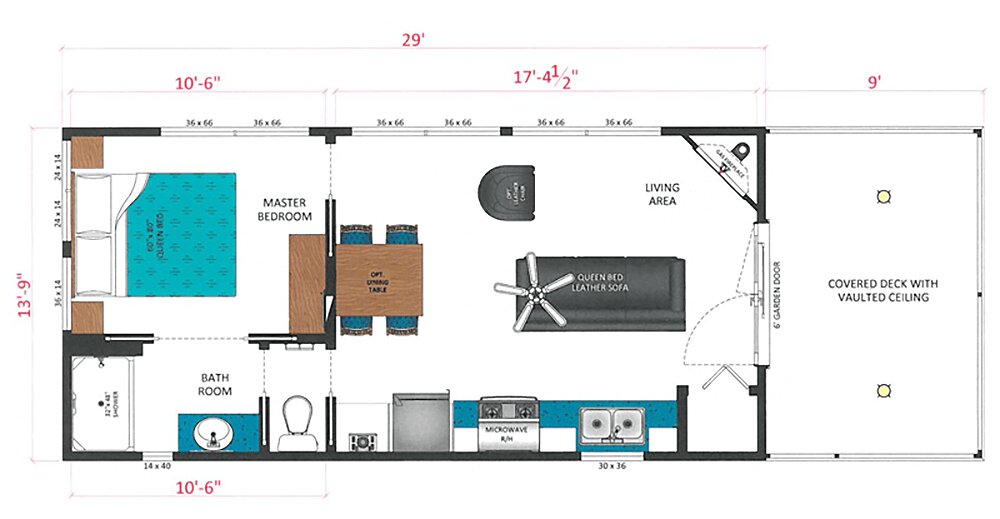 Large windows take up the majority of the front wall, providing yet more scenic views of the landscape, and keeping the woody interior bright. According to Whispering Springs, Whisper Cabin can be modified to run off-grid, and can also be customized to meet your particular needs and wants.
For more tiny houses check out this solar-powered home in Quebec that has a winter's heating bill of just $100. Or, this tiny house from England. See all tiny houses.