These quirky and quaint tiny dwellings have been created by the Oakland-based artist Gregory Kloehn. The units have been built using scavenged materials found in the Bay Area. Kloehn sifts through his findings for bits and pieces which may be useful in assembling the overall structure for the shelter.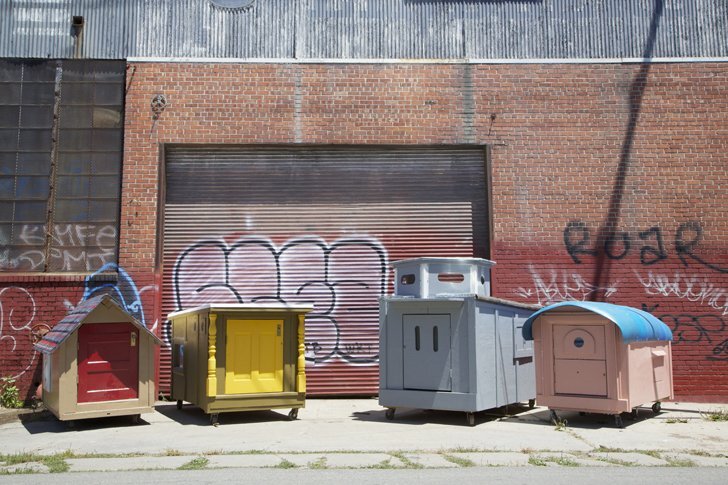 The portable single-man shelters are composed of plywood sheets, pallets, blankets, tarps and other odds-and-ends. Kloehn estimates that each of the shelters cost around $30 to $50 to create (mainly due to some extra hardware pieces). Once completed, he then donates the shelters to homeless people in the area.
Each tiny dwelling is an amalgamation different elements, elements which you may not typically associate with shelters or construction. Pieces of furniture have been hacked and reassembled to create the frame, or even decorative touches, like the spindles on the green unit. The costs mentioned previously are down to the screws, hinges and casters required to tie the pieces of the homes together.
Each of the units is big enough for just one person to sleep in. The roof of the structures is angled and sealed to prevent water penetrating the interior. The floors and interior walls are finished with whatever happened to be available at the time – plywood, pallets, planks, or even vinyl.
Kloehn shelters also feature casters allowing them to be moved with ease. Perhaps the size of the shelters would be too small for some (too much like a coffin?) but I'm sure they're a welcomed by those who have been braving the weather with no cover at all. It's also great to see someone dedicating so much time and effort to help those less well off.
For more shelters check out the Pallet House by I-Beam Design – a transitional shelter designed for refugees. Or the AbleNook, a deployable emergency unit that can be increased in size to meet the needs of its inhabitants. See all shelters.
Via Inhabitat
Photos: Gregory Kloehn