Called Vista, this tiny house is the latest offering from the Wisconsin-based ESCAPE homes. Unlike their other models, which seek to accommodate up to 6 people, the Vista is a much smaller, more "personal home".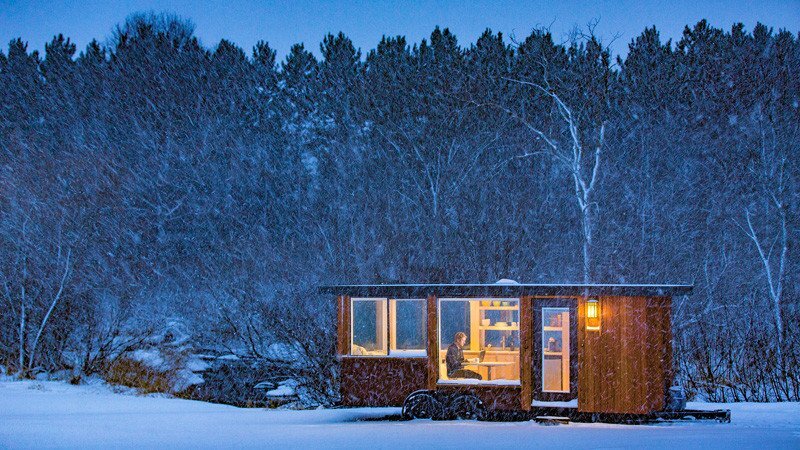 Founder of ESCAPE Homes, Dan Dobrowolski, describes their tiny houses as "personal homes" because, "like the personal computer and personal desk assistant, these are truly personal spaces designed to be adaptable to each person's individual needs." This is something I can also attest to, as most people who purchase our tiny house plans, tend to customize the them to their own specific needs and wants.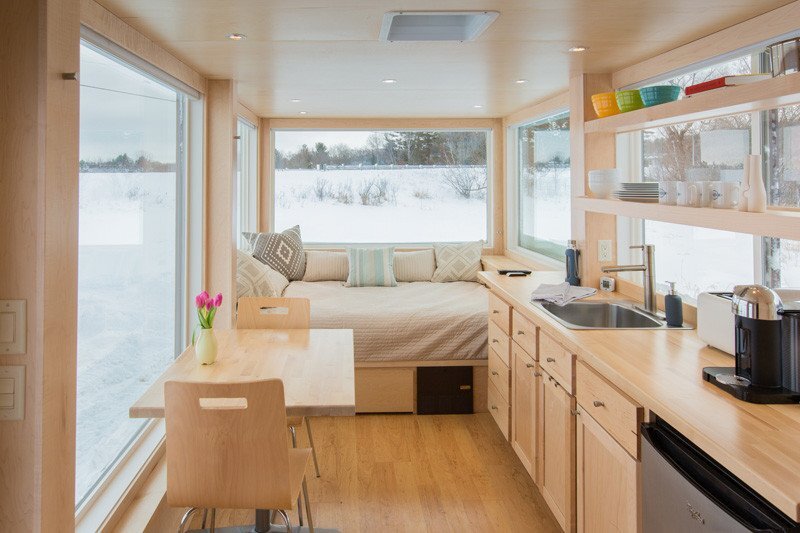 The Vista contains a total of 160 square feet (15 square meters), has a length of 20 feet, and weighs just 6,500 pounds. The outside of the house is clad in a mix of vertical cedar siding and CORTENs steel panels. The overall aesthetic is that of a contemporary rustic cabin.
The entrance leads into an open plan living space, featuring the sleeping area/living room, dining space, and kitchen. To the back of the house there's a separate room that contains the bathroom. The house is lined with windows along its entire length, providing fantastic views of the outside environment, while also keeping the living spaces bright and airy.
The interior finish features a lot of light woods, creating a cozy atmosphere that doesn't sap all the light out of the space. With the limited head room, they've gone for flush ceiling spot lights. To maximize storage in the kitchen, wall shelves have been placed in front of a window (this seems to be a bit of a trend at the minute).
The bedroom/living room to the front of the home features a pop-up TV that can be hidden away when not in use. Under the mattress there's a pull-out storage drawer for clothes and other items. All in all, I think it's an idyllic little home, one in which I could see myself living in quite happily.
For more tiny houses check out this eco-friendly tiny house by Jeff Hobbs that cost $77,000. Or, the Birdhouse, a 10-foot-wide tiny house from Asheville. See all tiny houses.
Via Contemporist
Photos: Escape Homes