This bright pink building may fool you into thinking it's a bit of a ditz, but it actually contains a number of smart design features. Called the Vila Hermina, the house can be found in the Czech Republic, and was created by HSH Architekti.
Despite its diminutive appearance, the house contains three floors which are all connected by a continuous ramp. The plays double duty in this house, where it serves as a means of going from one floor to the next, and also as a series of living spaces.
The house is located not far from Černín, and sticks out like a sore thumb when compared to the much more traditional buildings from the area. The houses rough exterior finish is a sharp contrast to the interior, which features a minimalist vibe finished with steel and concrete.
The clients asked that HSH Architekti incorporate a home movie theatre into the small space. The architects were able to solve this problem by aligning the floors with the slope of the hill, allowing them to create a relatively large wall area that they could project onto.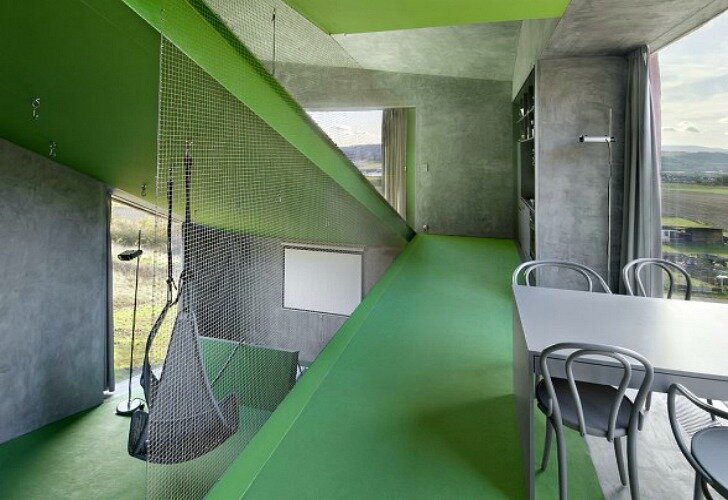 The bottom floor contains a wall lined with a bunkbed, built-in storage cabinets and the homes bathroom. At this level the ramp features a built-in cabinet that serves as the living and entertainment hub. When desired the cabinet can be opened and a movie projected onto the opposite wall. The ramp serves as tiered seating, allowing everyone to watch with ease.
The living room ramp leads up to the kitchen and dining area. The homes main entryway can also be found at this level. A second ramp (that features yet more lounging space) takes you up to the final level of the home, the master bedroom and its en-suite.
For more small houses check out check out this house in Vietnam that features a central courtyard. Or, this modern small house from Domesi. See all small houses.
Via Inhabitat
Photos: Ester Havlova