From the first for June to the first of September 2015, the Centrumeiland of Ijburg in Amsterdam is hosting what they're calling an Urban Campsite. The project is an art/sleep experience that features a variety of unusual sleeping spaces placed on a beach.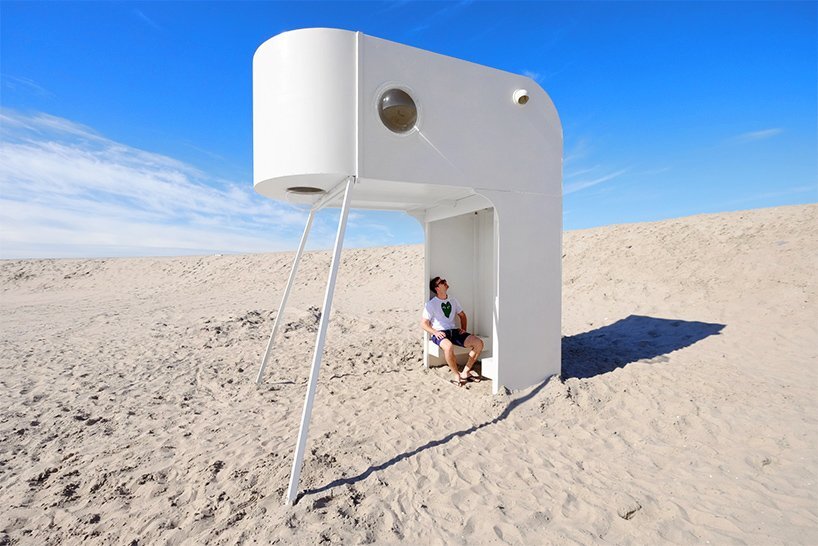 The public exhibition consists of fourteen sculptural temporary dwellings that have been created by a number of designers, architects and artists. The designers were challenged to create mobile shelters from a range of materials.
The shelters can be rented out through AirBnB by locals and tourists. The tents themselves come in all sorts of shapes and sizes, and would probably make for one of the most unique camping/glamping trips going. Apart from the tents, the site is also home to a shared recreation space, and cooking facilities.
From Rob Sweere, the designer of the "Upside Down You Turn Me" unit (the first and second images in this post): "This survival capsule has landed on the endless sand plains of Ijburg. Lying inside you can look left and right and also up and down through hemispherical windows. You can sit outside, sheltered from the rain below the object. Thus, there are two rooms: inside the capsule, for resting and sleeping, and beneath the capsule one can sit and dream oneself beyond the horizon."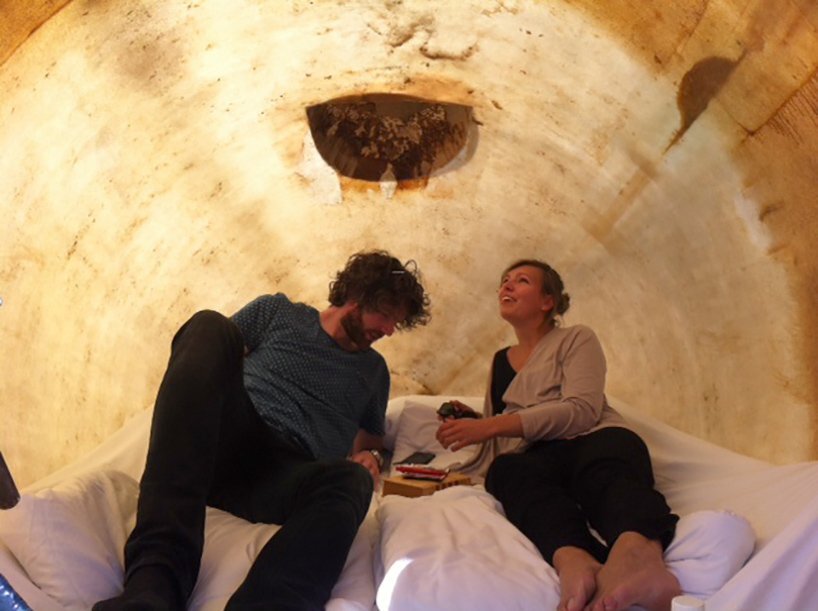 Another capsule by MUD Projects dubbed the Val Ross, takes inspiration from the shape of a seed and is made from recycled materials: "The basis of mud projects is to breathe new life into old, discarded objects. To draw inspiration from available objects and materials and thus be guided towards new forms and insights. It is important to study the form of the existing object and to let it speak to you in order to transform the object to subjugate the relation to its original purpose."
Another shelter, dubbed IBC Shrinkwrap (pictured above) by Refunc, "explores the flux of garbage and its recycling and utilization in architecture and design". More pictures are available through DesignBoom link at the bottom of this page.
For more camping/glamping posts check out Happier Campers HC1 retro-style travel trailer. Or, this glamping site in Korea that features luxurious accommodation. See all camping.