This small cabin in the woods can be found in Skykomish, Washington. Called Type Haus, the A-frame cabin is available to rent via AirBnB. It's location makes it perfrect for outdoor explorers interested in fishing, hiking, mountain biking, skiing, or even those who are just looking for a quiet weekend in the woods.
Type House is part of a private cabin community called Timber Lane Village, and contains a total of 1,100 square feet (102 square meters) spread across two floors. The exterior looks to be clad with corrugated sheeting and timber siding on the gables.
The cabin is kitted out to sleep up to eight people – there's a full-size bed and two twin's in the loft, with another full-size bed in the master bedroom, and the living room features a sofa-bed that can accommodate another two people.
The interior is pretty plain; it's not intended to be a 5-star hotel but a place where you can relax at the end of a days exploring. A scattering of windows on the front and back of the cabin helps to introduce light to the living areas, while also providing views of the immediate forest.
Some of the appeal of A-frame cabins is their unusual triangular shape. The simple form makes the A-frame economical to build, and – provided they're constructed properly – very sturdy and durable. The trade-off is that you have walls that can be awkward to work with on the inside, particularly when it comes fixtures and fittings.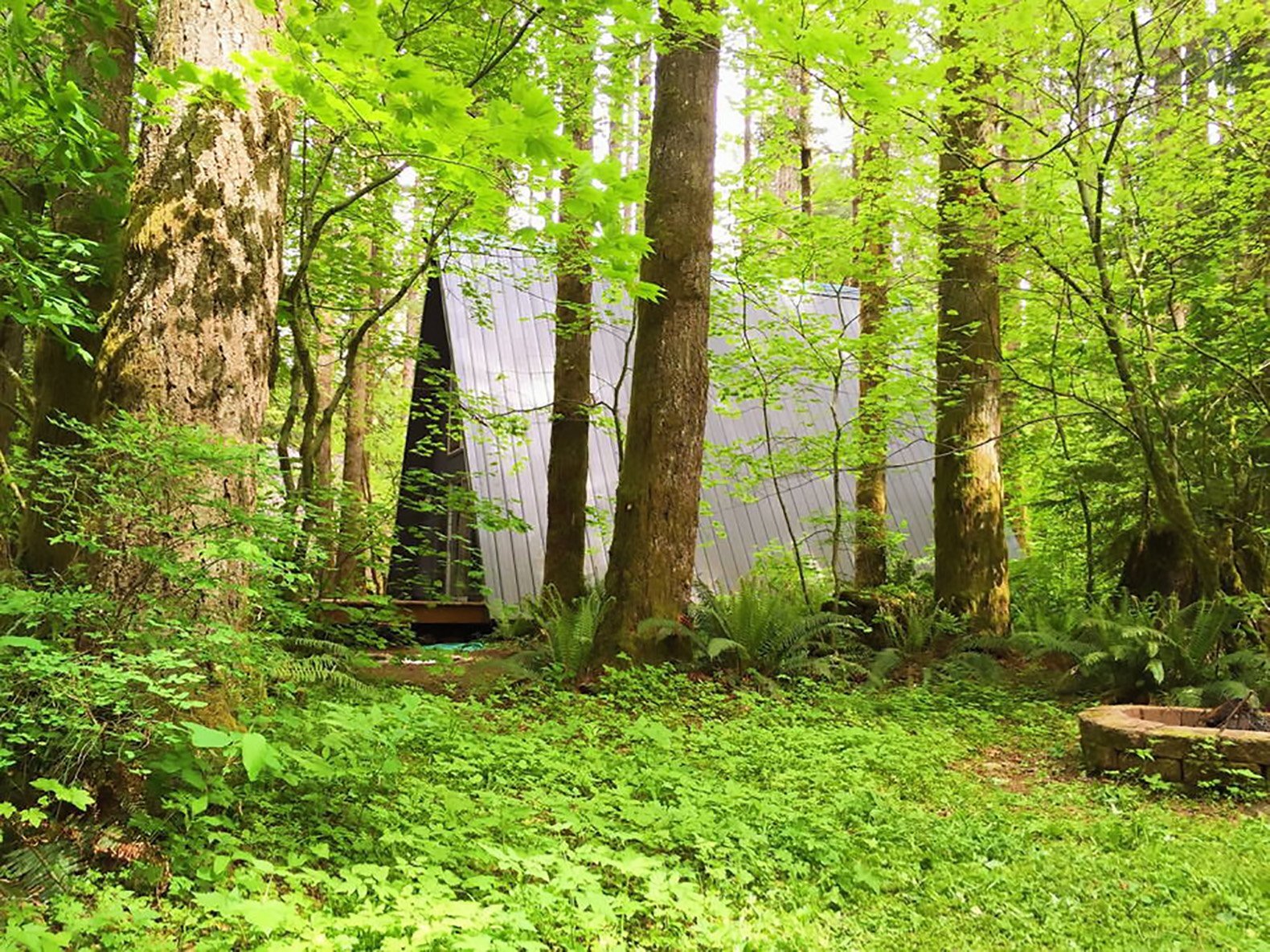 Tye Haus is kitted out with all the mod-con's you'd expect along with a 32″ TV with a Wii and DVD player (for when the outdoor activities have burned you out) and a propane fireplace to keep you toasty on cold winter nights. The cabin is available from $140 per night.
For more cabins check out this 1950's cabin revamp that features a treehouse like extension. Or, Gaudin House, a small barn that was transformed into a contemporary retreat in the Swiss Alps. See all cabins.
Via Inhabitat
Photos: Tye Haus