Called MK IV Tvan, this off-road camper will provide you with relative comfort, even in the most desolate of destinations. Off-road trailers seem to have become increasingly popular in the last few years, as people seek out adventures that don't follow the beaten track.
It's been created by Track Trailers and follows in the footsteps of its predecessors, with incremental improvements including more cabin space and headroom.
The Tvan is intended to be light and quick, not only in terms of towing, but in terms of set up. It features a tent to the rear that forms part of the cabin when erected. Track Trailers have also reviewed the campers electronics, kitchen configurations, and storage capacity.
When fully assembled, the Tvan has an overall length of 15.7 feet (4.8 meters). According to Track Trailers, it takes just 60 seconds to setup. The main body of the cabin is largely taken up by the sleeping area. Because the tent is stored in the rear hatch, users have the option of pitching it, or leaving it as is.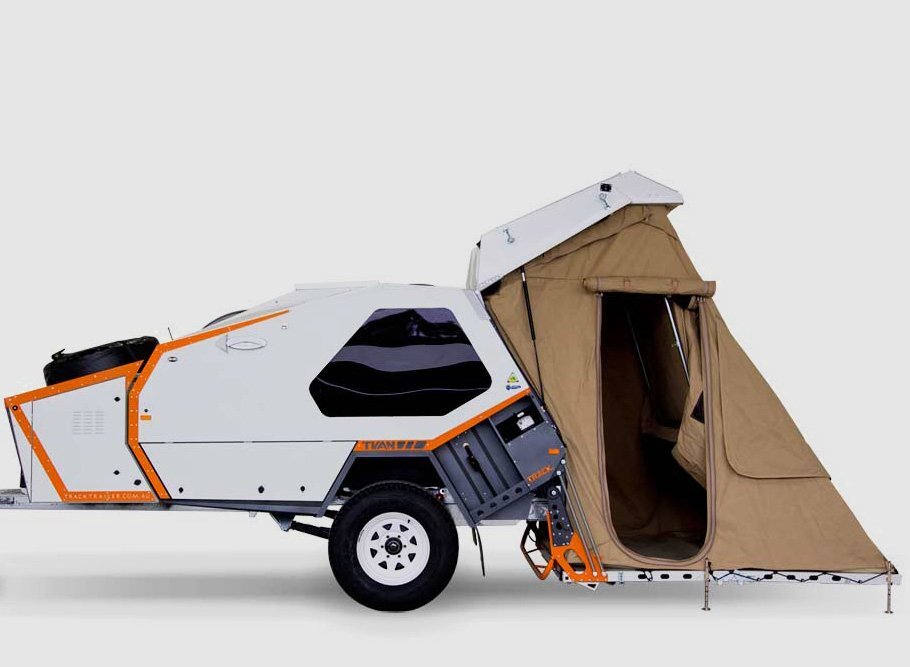 The walls of the camper are insulated, so as to help prevent it getting too hot or cold. They've also included a small ceiling mounted fan to help regulate the temperature. The kitchen is hidden underneath the cabin. It slides out to the side, and includes three drawers, a two-burner cooktop and a sink.
There isn't much in the way of create comforts here, not when compared to RVs and tiny houses. But the Tvan aims to cater for a different group of people altogether. It's a hardy little camper that'll appeal to the more adventurous.
For more campers, check out Mini Minimal, a teardrop trailer by Tiny Camper in Lithuania. Or, Jugen Jas' custom-built camper with pop-out living spaces. See all campers.
Via DesignBoom
Photos: Track Trailer