As we welcome in the New Year, let's take a look back at some of the most popular posts of 2014. Overall it's been a pretty good year for Humble Homes. The number our followers on Facebook more than doubled, as did the number of visitors to the website. Below you'll find some of the most popular small and tiny house posts featured throughout the year. Wishing you all a very happy New Year!
P.S. The sale on the McG Loft V2, the Rooke and the Blue Jay tiny house ends today.
The Little Lost Cabin by Clark Stevens
"This small 700-square foot cabin can be found on Summit Spring Ranch in Idaho. The building was designed by architect Clark Stevens on the behalf of an investment company, Beartooth Capital, which specialises in the restoration of neglected properties…" View the full post here.
Dutch Holiday Home on the Island of Vlieland
"Set on the Dutch island of Vlieland, this small holiday home features a fully retractable façade that allows it to open up to the outside environment. The house has been designed by architecture studio Bloem and Lemstra Architects on the behalf of a client…" View full post here.
The Heijmans ONE – An Affordable Tiny House
"This tiny house has been created by the Dutch construction-services company Heijmans as part of an affordable housing project. The project aims to provide young people with rental housing within bustling, high-profile cities like Amsterdam…" View full post here.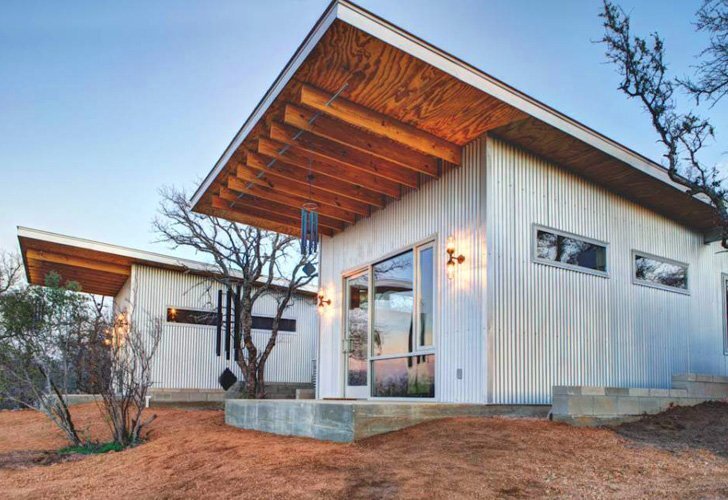 The Ilano Exit Strategy by Matt Garcia
"This series of tiny houses have been designed by Matt Garcia on the behalf of four couples seeking to escape city life. Called the "Llano Exit Strategy", the micro-housing project is situated on a plot along the Llano River. Each tiny house was built on a budget of just $40,000…" View full post here.
The UEV440 Luxurious Camper by Conqueror
"Perhaps this trailer is the next stage in the evolution of the once humble camper. Dubbed the Urban Escape Vehicle, or UEV for short, and designed by the Australian company Conqueror, this travel trailer sets out to meet all your needs while on the road (or off-road) in one relatively small package…" View full post here.
A Transforming Container Home – Casa Cubica
"Despite the awkwardness and challenges of converting shipping containers into fully functional homes, some companies (and individuals) really do succeed at transforming them into comfortable and cosy living spaces. This shipping container called Casa Cúbica is a great example – it looks great both inside and out…" View full post here.
A Korean Glamping Site by Archiworkshop
"If camping's not your thing, perhaps you should give Glamping – glamorous camping – a go. These unusual structures are actually luxurious tents designed by ArchiWorkshop for those that can't leave all the comforts of home behind…" View full post here.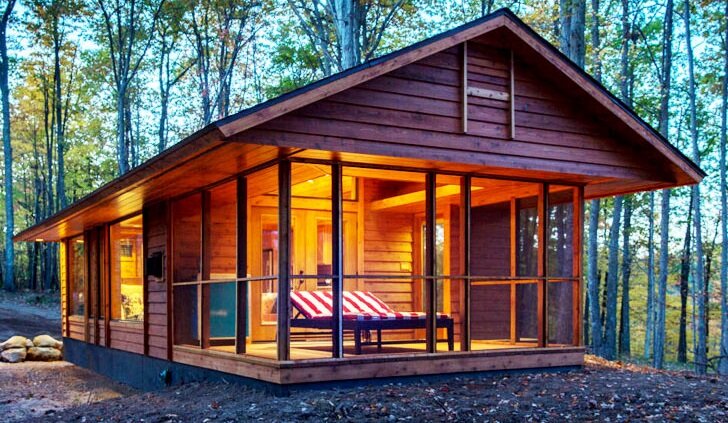 Escape – A Rustic Retreat in Canoe Bay
"Believe it or not, this rustic looking cabin in the woods is actually classified as an RV. Called ESCAPE, the cabin is an amazing little retreat that can be moved from one location to another thanks to it being loaded on a trailer…" View full post here.
viVood – A Tiny Prefabricated House
"viVood is a prefabricated timber dwelling that has been designed by a group of Spanish architects and engineers. The lead designer, Daniel Mayo Pardo, wanted to create a tiny house that was both energy efficient, modular and cost effective…" View full post here.
The Tin Can (Container) Cabin
"This cosy container cabin was constructed by one ambitious man inspired by the recent boom in self-builders taking on the construction of their own homes. The cabin is located in northern Wisconsin…" View full post here.
For more tiny houses check out this small modern farmstead in Alberta by Bioi. Or, this WW2 bunker that's been converted into a tiny holiday home. See all tiny houses.