This tiny writer's studio in London has been designed by WSD Architecture for an author and illustrator in Hackney, London. The studio was created not only to serve as a functional workspace for the author, but also to reflect their passion for children's literature and mythology.
WSD Architecture attempted to incorporate a sense of playfulness into the studio – they designed it to act as a "fairy-tale hut at the bottom of the garden where the client could retreat and immerse himself in his work."
The main elements that help to create the "fairy tale" atmosphere are composed of the back-lit cedar and shingle cladding, log store, and the wood burning stove. The frame-less glazed patio door opens up to a sheltered veranda, a place where, as the architects put it, "one can enjoy the very worst of the British weather."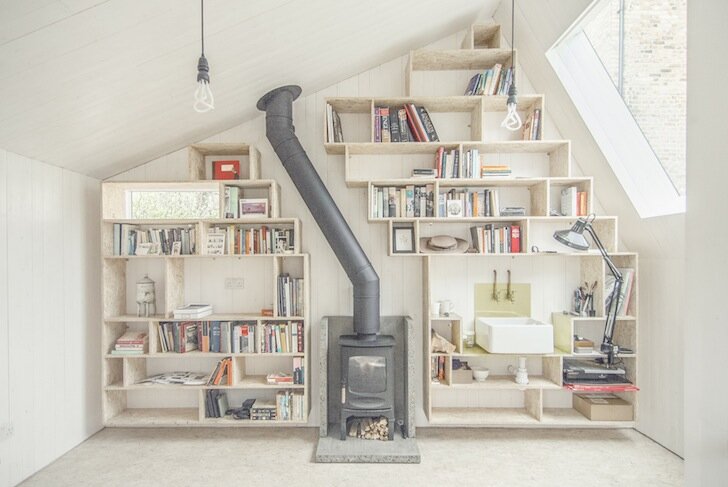 The interior of the writer's studio is full of natural light due to the large window openings. The centerpiece of the room is a large wall-hung bookcase that frames the small wood stove. Instead of installing your typical stove flu, WSD decided to introduce a kink, helping to create a sense of quirkiness which is oh-so-common in fairy tales.
The minimalist palette helps to create a space which is void of distractions. The floor is made of oiled OSB, and the walls and ceiling are clad with painted tongue and groove pine. A small Belfast sink with a brass splash-back is embedded into the bookcase.
The asymmetric roof allowed the designers to incorporate a large north-facing skylight that sits directly above the illustration desk. At night the open cladding allows light to seep out into the darkness, creating a warm, cosy glow against the backdrop of the night.
For more studios check out the Hackney Shed, a tiny garden office built in Surrey and designed by Office Sian. Or this studio apartment that features a bed suspended from the ceiling to save space. See all studios.
Via Inhabitat
Photos: Wai Ming Ng