Remember that last custom tiny house design I undertook? If not, check out the picture below for a reminder. The not-so-tiny, tiny house is 24′ long and features a living area, kitchen, bathroom, studio space, and a sleeping loft.
UPDATE: The plans for this tiny house are now available, click here to check them out.
The clients that asked me to produce this tiny house, Jay and Jen, have started their own website, Trainer Tiny House, that follows their progress with the build. They're aiming to complete their micro-home within the next month and are currently looking for somewhere in the Bay area of San Francisco where they can park their house. If you have a plot of land, and are interested, why not let them know!
Jay and Jen collaborated with me to produce the design and plans for their tiny house. After the plans where completed they were able to move on to the next stage – construction. And, as with all tiny houses on wheels, it starts with a trailer.
To create the 24′ trailer they contacted Bill Kastrinos of Tortoise Shell Homes, who built the custom trailer as well as the framing. I have to take my hat off to Bill, because it looks like a top notch job.
Insulation is often a sticking point with tiny houses. There are several factors to weigh up – cost, r-value, whether or not the product is environmentally friendly etc. I'm happy to see that the J's have gone with eco-friendly sheep's wool (after much thought and research).
You've probably noticed the unusual metal sheathing. Metal sheathing is more common in lightweight steel frame structures, and not often applied in traditional house construction where OSB and plywood dominate. In this case it makes sense to install it in key locations, where it will brace the home against wind loads and reduce the overall weight of the home.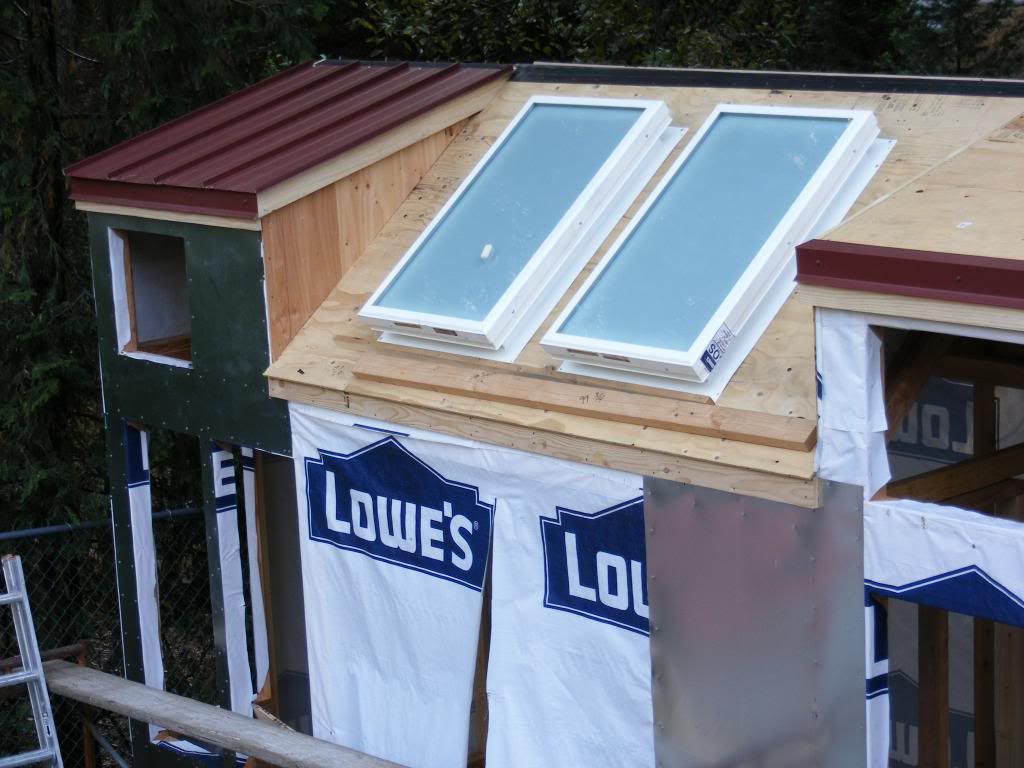 Isn't steel sheathing inferior to OSB/plywood sheathing in terms of racking resistance? The answer depends on the type and gauge of the steel you're using. 20 gauge (0.027″) corrugated steel sheathing actually outperforms the 1/2″ wood-based equivalent.
This tiny house has no less than three skylight windows. Two over the main living area, and one in the bedroom for stargazing. The skylights will ensure that the home is both bright and well ventilated (skylights can act as great exhausts during warm summer weather).
So far the house is looking fantastic, and I'm looking forward to seeing the finished home.
If you're thinking about building a tiny house, check out our portfolio of tiny house plans.