In Europe and Asia it's common to come across small and tiny city apartments, particularly in older cities where building regulations were more relaxed at the time of construction. These historically small spaces often provide a challenge for designers on how best to make use of the space.
This apartment is based in Antwerp, Belgium and has been refurbished by a local design studio called Van Staeyen Interieur Architecten. The homes bedroom features a space-saving solution that's proving to be quite popular – an entire wall dedicated to storage with an integrated spot for the bed.
The unit reduces the need for free-standing furniture pieces, as your bedside table, lighting and shelves are also stored within the sleeping compartment. The bed itself is a twin, so it's plenty big enough for a single person and makes the room ideal for students, or guests.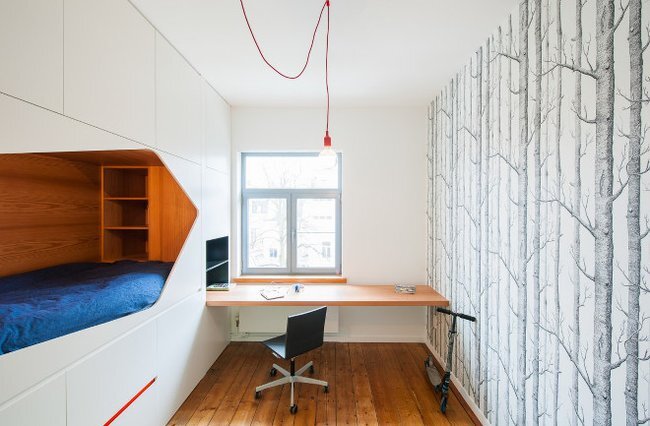 The bed is raised slightly higher than usual, but there's also a little pull-out step to provide easy access. The remainder of the room is mostly free to use for whatever you wish, but it does have desk on one end, that runs from the storage/sleeping unit to the adjacent wall.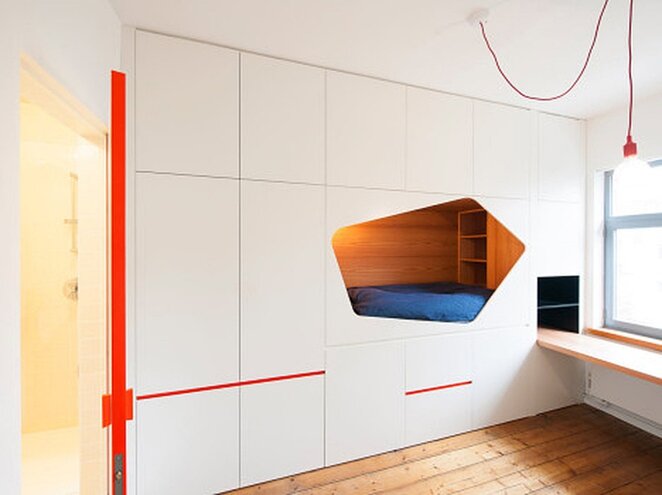 It's a clever way to maximise the available room, and is particularly applicable to small and tiny houses where space is at a premium, and usually has to serve more than one function.
For more spaces check out Albang, a series of egg-shaped living pods in Korea that serve as getaways on the beach. Or, this discarded trailer that's been converted into a flexible retreat. See all spaces.
Via TreeHugger
Photos: Van Staeyen Interieur Architecten