This floating retreat, called the Walden Raft, has been inspired by the life and work of American author Henry David Thoreau. The raft is the result of a collaborative between Elise Morin and Florent Albinet.
The raft is based on the remote cabin which Thoreau built and lived in for over two years in 1845 among the woods near Walden Pond in Massachusetts. During his time there he documented his lifestyle in the book, "Walden" (also known as "Life in the Woods"). The book itself is now held in great esteem as a study on self-sufficiency.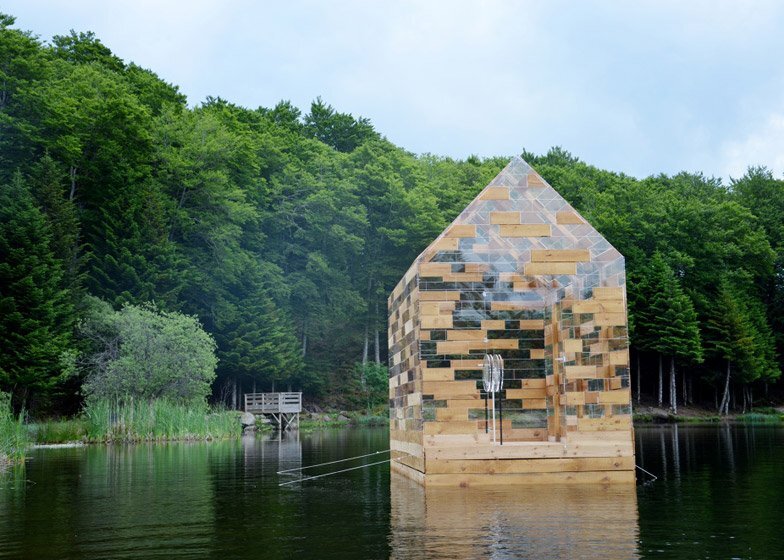 The raft is constructed from a mix of pine wood, and acrylic glass, supported by polyethylene floats. The proportions are the same as Thoreau's cabin – 10 square meters in size (108 square feet), with a height of 4 meters (13 feet).
The raft is attached to a reel which can be used to tow it out (and back again) to an anchor in the middle of lake. The acrylic glass is used to maintain a connection with the surroundings, while also providing shelter from the rain and acting as a safety barrier.
Walden Raft has been constructed as part of 2015's Horizon Arts Festival and is open to use by the public until 27 September. From Morin: "Buoyancy and mobility make this shelter a space that is neither too near nor too far from human society. I needed to find a solution to express interaction between interior and exterior."
For more retreats check out the Skylodge, a unique getaway featuring prefab pods anchored to a cliff face. Or, this contemplative forest retreat by Tomek Michalski. See all retreats.