At 880 square-foot, this cabin is relatively large compared to the mirco-homes we often feature. but it's design encompasses many of the principles that that can be applied to tiny houses and smaller spaces.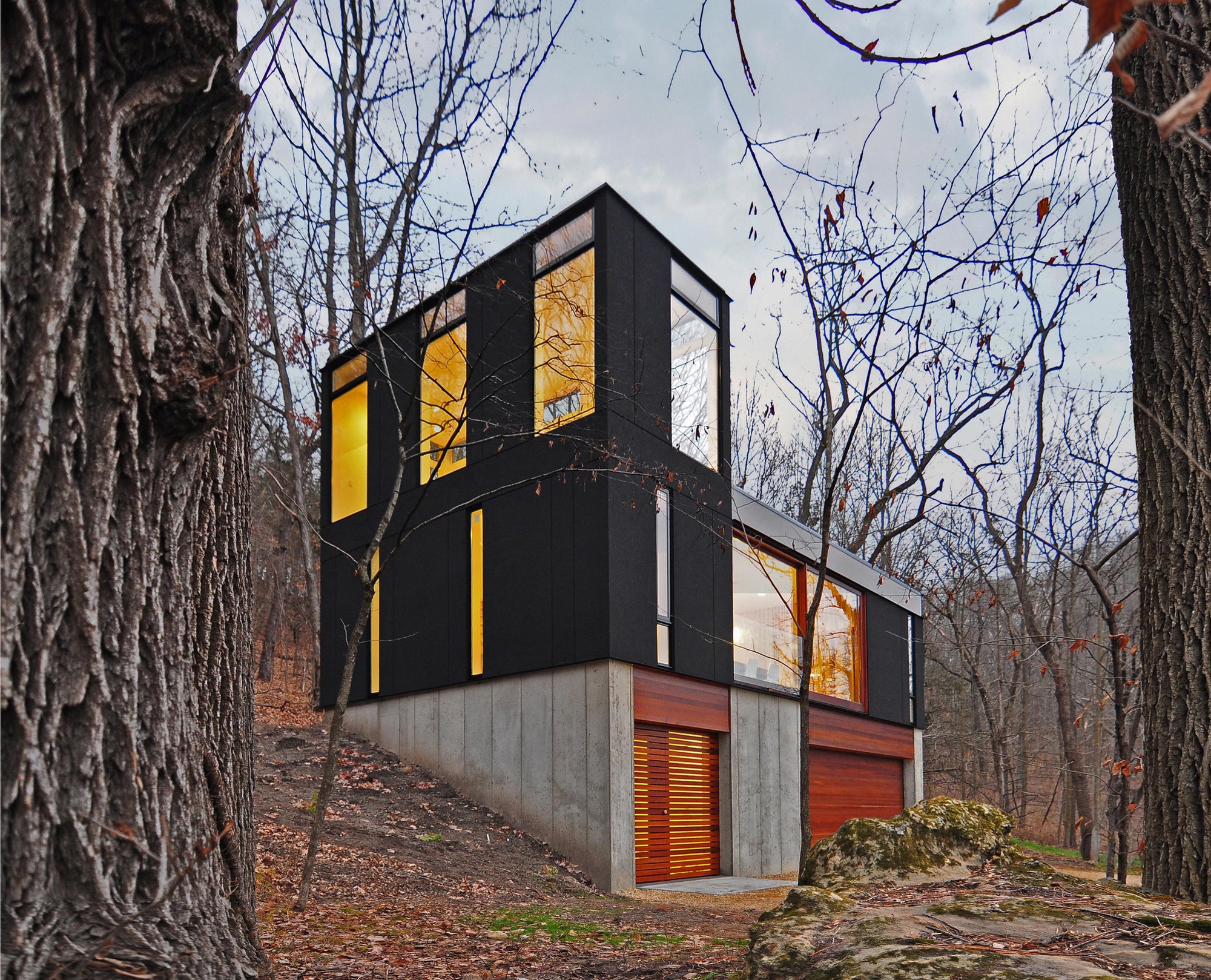 Designed for a small family on a tight budget, the cabin is a simple structure that takes advantage of the sloped site. The horizontal components of a traditional cabin have been compounded – typically open-plan longhouses  have a communal living area, outhouse and a freestanding tooldshed, but as it's cheaper to build up rather than out, these areas were stacked vertically.
The ground floor level carves into the hillside, and features a small workshop with storage for equipment and a washroom. The main living area can be found on the next level of the home. The open-plan living space is centered around a  wood-burning stove and contains a simple galley kitchen which can 'closed off' from the main living area with curtains. The communal living area also features a pair of small sleeping rooms, which again, can be closed off using curtains, providing some extra privacy and separation.
The large windows flanking the sides of the living area help to both flood the interior with natural light, and meld the exterior landscape with the interior. In the summer, the windows can perform as screened openings, almost transforming the living space into an enclosed outdoor space. In addition to this, the openings also creates enough cross-ventilation to eliminate the need for mechanical conditioning. A small study sits atop of the living room, and features observatory like views of the the surrounding forest.
The project was built using readily available materials, fitting in with the regions farmstead architecture. The use of exposed concrete, cedar, anodized metal, and cementitious plaster echo the natural tones of the surrounding forest and rock formations.
Via ArchDaily