You can find this houseboat set among the picturesque surroundings of Wakefield, Quebec. Berthed along the Gatineau River, the houseboat is available to rent through AirBnB.
The getaway has been dubbed The River Den, or La Tannière in French. It's been built by Bonnie (see the video below) who, at the time, was investigating alternative living solutions that were more affordable than the status quo. The result is a fully insulated, functional small home.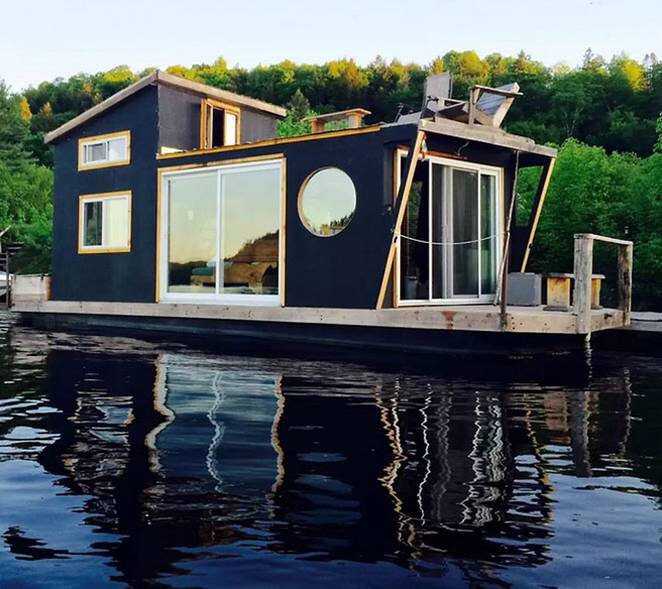 Bonnie and her co-creator Mat are no stranger to alternative dwellings – they previously converted a van for full-time living. The River Den is 33 feet long, by 11 feet wide. It encompasses a total area of about 253 square feet, and has been built to accommodate year-round living.
The boat is heated by an old antique wood stove, is fully insulated and features double-glazed windows to minimize heat loss (some of which were custom built for the project). The structure is set upon 5 pontoons that keep it afloat while also allowing it to take on some water to provide stability.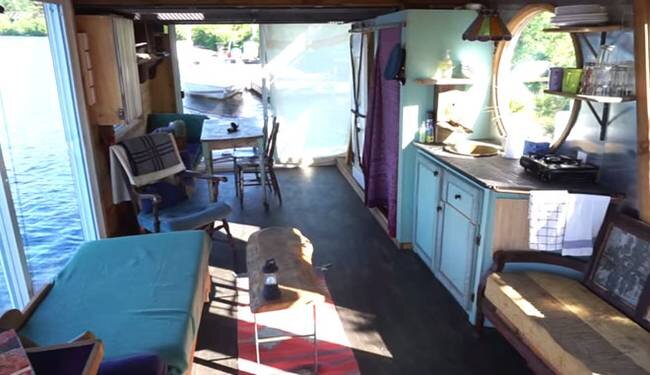 The interior is kitted out with an array of different furniture pieces and curiosities. The living room leads directly into a small kitchen. The kitchen is equipped with a sink that makes use of a pump to provide water, from the river, for dish washing. For cooking, there's a single burner cooktop.
The bathroom is found at the end of the kitchen and features a Separett composting toilet. The upper level is used as a sleeping space, where the floor is made of a steel mesh that allows heat to easily travel up from the lower level. It also helps promote air circulation, keeping the home well ventilated.
Other features include a cedar rooftop deck, and a custom-built helm to steer the vessel when it's on the move. Electricity is catered for through the use of a 12v marine battery. Bonnie's considering installing solar panels to create an off-grid getaway that will also power a small fridge (as opposed to the ice box they're currently using).
For more houseboats check out this century old icebreaker barge that was converted into a modern tiny home. Or, this family houseboat from Laust Norgaard in Norway. See all houseboats.
Via TreeHugger
Photos: Exploring Alternatives