Called Element 1, and designed by Chris Pardo, this small prefab house is the latest edition to Method Home's already extensive portfolio prefabricated houses. The one-bedroom retreat is set on Marrowstone Island in Washington.
The owner, Karen Kiest, works as a landscape architect and purchased the plot of land for its stunning views. However building a house on the plot was problematic, and Kiest decided that offsite prefabrication would minimize disruption to the immediate surroundings.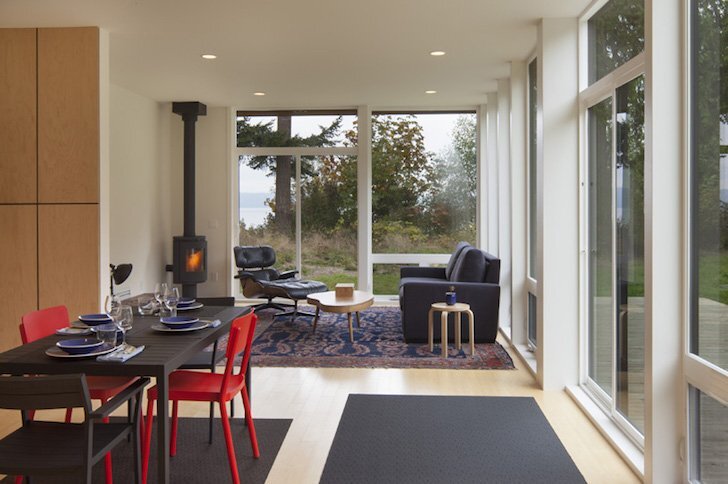 Kiest contacted Method Homes, and after speaking with Pardo, she determined that the Element 1 was the most appropriate for for her – and the sites – needs. The Element 1 features an 825 square foot (76.6 square meters) floor plan, with generous living spaces and plenty of glazing to take advantage of the views.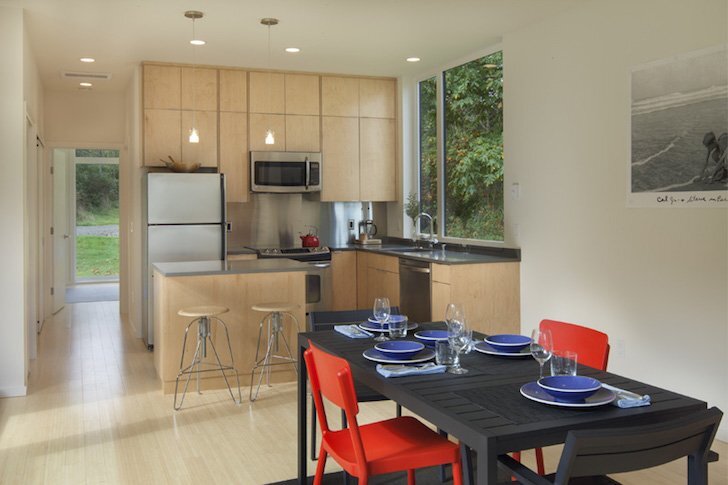 The exterior of the house is clad in a mix of Corten steel, timber and floor-to-ceiling windows. The windows surround the main living area and the bedroom to the back of the house, providing views from every room. On the inside the living spaces are (of course) bright and filled with natural daylight.
The walls and ceiling are finished in white-painted drywall, and the floor in a light wood. On the far right of the house you'll find the living room, which features a small wood-burning stove. This is following by a simple dining area for four people, and the kitchen.
The bathroom is sandwiched between the kitchen and the bedroom. The bedroom itself features two walls of glazing that look out on the surrounding forestry. The interior living space are extended by a large exterior deck that wraps around the front of the home.
For more prefab houses check out the Bioclimatic House 3.0 by Noem. Or, the Minimod, a tiny prefabricated house by Mapa architects. See all prefab.
Via Inhabitat
Photos: Method Homes