These modern wooden teepee-style structures have been thought up by the designer Antony Gibbon. Like Gibbon's other works, these structures have been inspired by the natural environment and geometrical patterns. The timber teepees have been dubbed "The Nook" (like one of our own tiny house designs).
The Nook aims to fulfil a number of possible uses, from alternative hotel accommodation, personal retreats and getaways, to a home office or studio. Gibbon's envisages the Nook as a modern rendition of the rustic cabin. I can see cabin sitting quietly against the backdrop of a forest, thanks to its small footprint and the use of natural materials.
The structure has several variations. It can be a small self-contained single floor unit, or a much larger two-story structure capable of accommodating more people. The shell of the Nook is clad with slatted wood panels, which, over time, should weather and blend in further with the immediate surroundings. The slats are angled and layered to keep out rain, wind, and insects.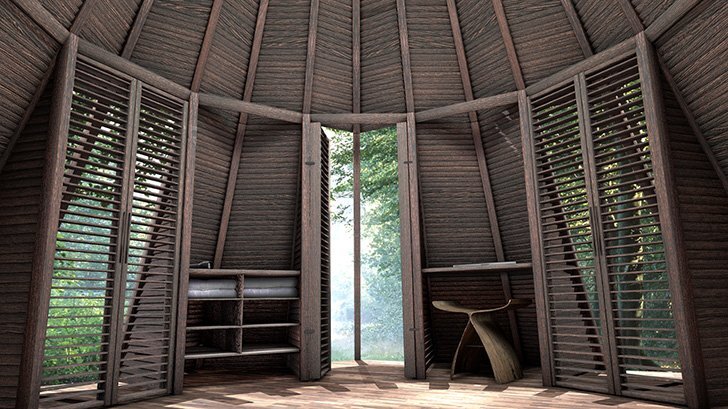 A sense of spaciousness pervades on the inside, thanks to its high ceiling. At the pinnacle of the cabin there's a large reinforced angled glass roof window, providing a source of natural light for the interior. There are also a series of glass framed windows and doors featuring the slatted design of the exterior for a seamless appearance. The slats are capable of being rotated to adjust the light/heat intake as necessary.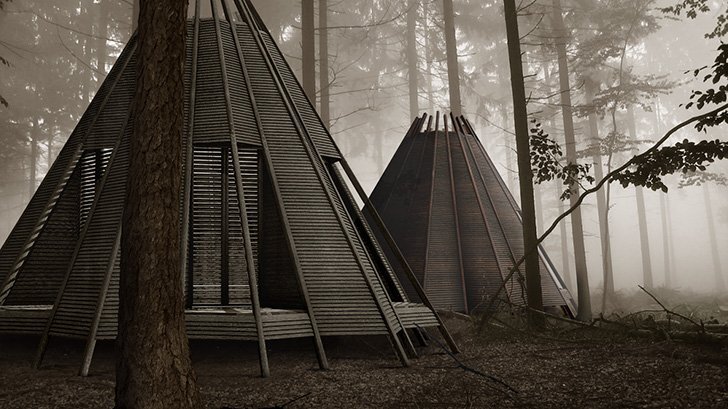 The entire structure of the Nook is raised from the ground level on posts that also form the main frame. Thanks to this, it can be located on uneven surfaces, such as hills. Gibbon's even mentions that it could be used as a raft by incorporating float under the building.
The Nook is more down-to-earth than some of Gibbon's other works, and perhaps someone will make this concept a reality. That's not to say that letting your imagination run wild is a bad thing. On the contrary, it often leads to unexpected outcomes and more creative design solutions.
For more spaces check out Moderns-Sheds contemporary garden rooms that can be used as an extra living space, or as a tiny house. Or this sauna on wheels called the surf shack that's been designed to keep surfers warm during the winter months. See all spaces.
Via Inhabitat
Photos: Antony Gibbon Designs