Called SV House, this renovation project was created out of the ruins of an existing building. The house is set in Northern Italy, near the Orobic Alps and features sweeping views of the landscape.
The project was undertaken by architect Rocco Borromini, who had the challenge of converting what was essentially two stone walls into a fully fledged house.
As mentioned above, the site had been left in a serious state of disrepair for an untold period of time. Originally, only the two gable-end walls (the stone walls pictured above) existed. Much work was needed to repair and secure the walls, while also adding reinforced floors and the timber upper levels.
Once the structure had been addressed they were able to move forward with the new layout. SV House contains 3 levels, each with a floor area of 237-square-feet (22-square-meters), giving it a total area of 711-square-feet (66-square-meters). Large portions of the front facade have been glazed in order to take advantage of the picturesque views.
On the inside its rustic roots are unrecognizable (although it does feature a stone floor at ground level). Borromini has opted for a contemporary/minimal finish, making use of materials like stone, wood and steel. Each level contains a rather intimate setting, usually serving at least two functions.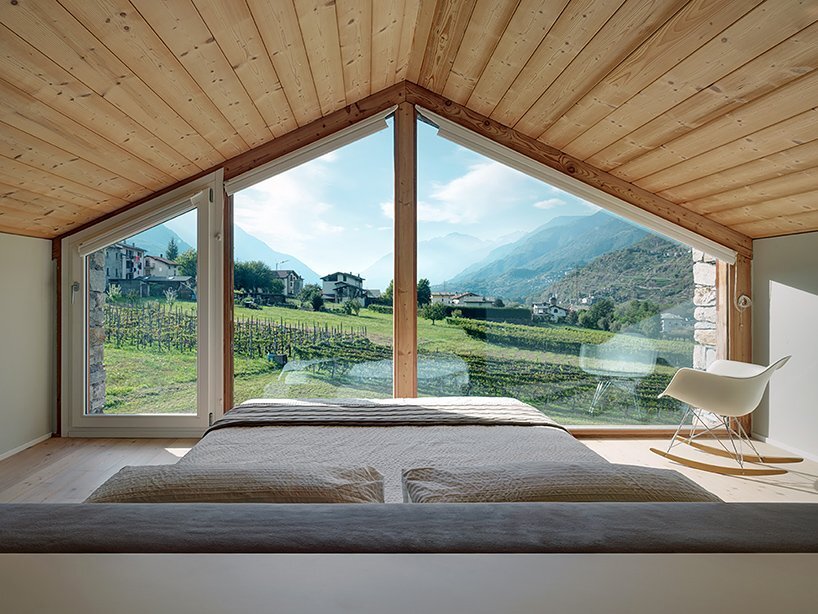 The first floor is taken up by a kitchen, dining area and living room. A lightweight steel and timber staircase provides access to the upper levels. The second floor contains the home's bathroom, as well as a bedroom. The third and final floor accommodates the master bedroom.
Some exterior elements have been included in the renovation, including a second storey balcony and a patio at ground level. All in all, SV House is a pretty successful intervention, preserving the history of the site while accommodating new needs.
For more small houses check out KD House, a bright and airy home set among the woodlands of Blasinge, Sweden. Or, El Quinche, a bare concrete cabin from the woods of Ecuador. See all small houses.
Via DesignBoom
Photos: Rocco Borromini