This off-grid house set in the Navajo Reservation in Utah, has been designed by the non-profit organisation DesignBuildBLUFF. Completed in 2009, the house is one of many environmentally friendly homes that the organisation has built.
Every year DesignBuildBLUFF invites first-year graduates of architecture to design and build a home for a Navajo family. The buildings themselves are constructed with found and salvaged materials, which can be mixed with modern technologies and traditional construction techniques.
This house was designed for Suzie Whitehorse and her four children. Prior to this Suzie and her children were living in a 15 foot wide dome-shaped hut – a tight and cramped space for five people to live in. The new house provides several, much larger, living spaces, each of which is designed to fit in with both their needs and lifestyle.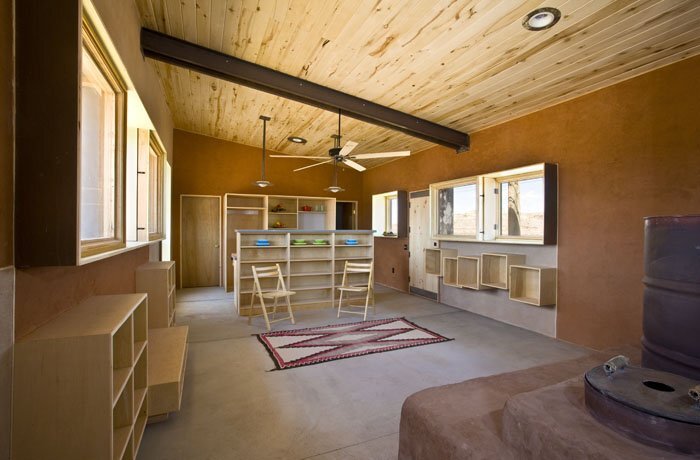 The kitchen of the house features a rocket stove. The wood-burning stove can be used to heat the 55 gallon barrel that sits on top of it, providing warm water for the home. It also has a 20 foot flue made from cob, which when warmed-up, acts as the house's primary source of heating. As a backup, there's also an in-floor radiant heating system that's powered by solar hot water panels on the south wall.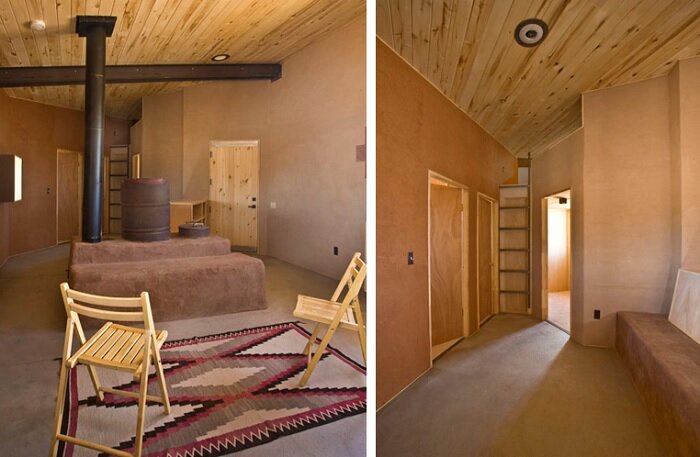 The approach to the design and construction of the building is relatively low-tech, and hence low on maintenance. The architects attempted to make use of passive design, rather than employ active energy systems. As DesignBuildBLUFF put it: "There is no HVAC system — really no mechanical system whatsoever, just the sun and a little bit of wood, and the breeze."
The entire building is raised off the ground by recycled telephone poles, promoting natural ventilation. On the south side, the window area and orientation has been calculated so as to provide optimum passive solar heating. The roof features a rainwater catchment system that leads to a 2,000 gallon cistern that's buried in the ground.
For more off-grid houses check out The Shack at Hinkle Farm, a cozy retreat featuring a garage door as an operable window. Or this small island home off of Vancouver with a bed that can be pulled out into the openness of the surrounding forest. See all off-grid houses.
Via Inhabitat
Photos: DesignBuildBLUFF