Completed in 2015, this small summer house is set among the woodlands of the Stockholm archipelago. The design of the cabin was carried out by local firm, Krupinski/Krupinska Arkitekter. The project has been titled Summerhouse T.
During the 1990's the site was home to a gardener. It's now been taken over by a family, who – like the previous owner – have an interest in gardening and have maintained the paved walls and plants that surround the home.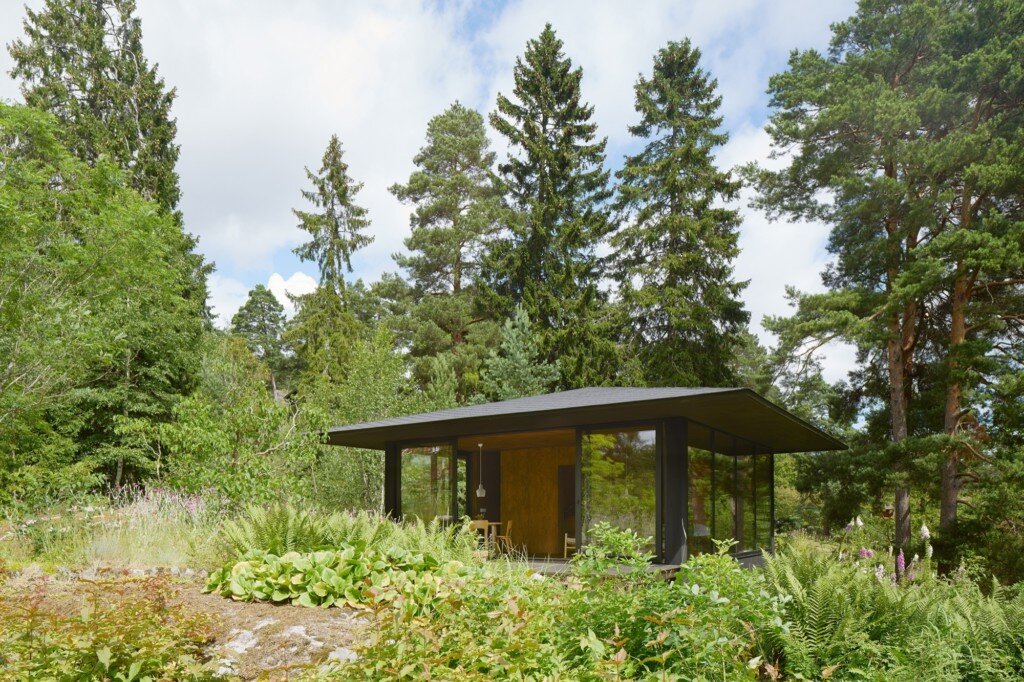 The site contains another, much older, building that was originally used by the previous owner. Given that the current owners consist of a mother and her two daughters who have since gone on to have families of their own, some extra space was required to cater for everyone. The solution came in the form of a small 431-square-foot (40-square-meter) cabin.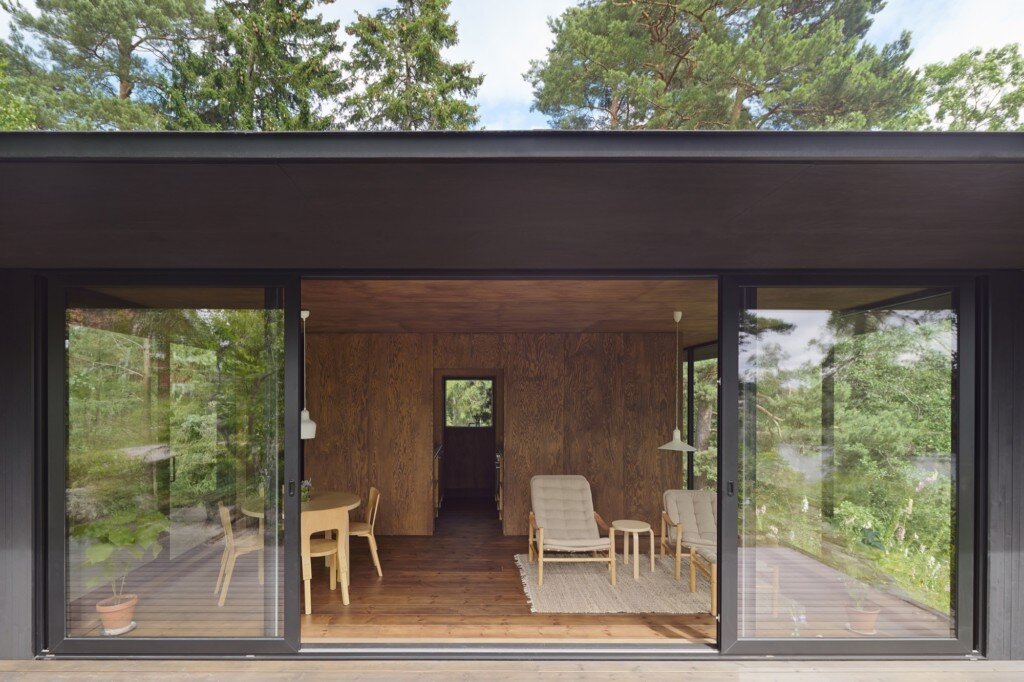 Summerhouse T is a simple little shelter that aims to take stock of its surroundings. Two-thirds of the dwelling feature floor-to-ceiling windows that flank living and sleeping areas. The windows, coupled with the proximity of the immediate trees, helps to bring nature "closer to home".
The interior is finished in a mix of dark plywood sheeting and boards. The front of the home is taken up by a compact but adequate dining/living area. To the rear, a unit that's set back from the perimeter walls contains the kitchen and two bedrooms. A small bathroom juts out from the home, interrupting its otherwise perfectly square plan.
One side of the central unit contains the master bedroom, while the opposite end contains the children's bunk beds. The kitchen can be found sandwiched between the two. It's a simple setup complete with a stove, sink and refrigerator and plenty of storage – everything you need for a short break away.
Because the central unit steps away from the perimeter walls, a connecting corridor is maintained between each of the living spaces. The very back of the home is kitted out with shelving and storage compartments. On hot days, two of the glass walls can be opened, cooling it down and providing a more direct link with the woodlands.
For more cabins check out Koko Architect's off-grid lodge for hikers in Norway. Or, Cabin K, a family retreat that mixes modern and traditional design. See all cabins.
Via ArchDaily
Photos: Lindman Photography