Multifunctional design is one way to make things more efficient, and this small house in Japan manages to serve four purposes within its four walls. Called Ouef and designed by architecture firm Flat House, the building acts as home for a young couple, while also containing spaces for a cafe, gallery and art studio.
The house can be found near Nogawa Park in western Tokyo. The house's name, Oeuf, was inspired by the egg-shaped structure in the center of the building, which contains the kitchen and bathroom. The total usable floor space amounts to 861 square feet (80 square meters), not bad for a building with so many uses.
Bar its modern appearance, the outside Ouef resembles any other house on the block. There are no grand entrances, but there are a few small signs alerting passers-bys. It's a simple structure that takes on a cube-like appearance with a few openings for windows and doors.
The inside, like the outside, is finished in a bright white. The floor looks to be polished concrete, and the linear form is broken up by the intrusion of the central, egg-like, structure. The wooden furniture and staircase help the space feel less cold.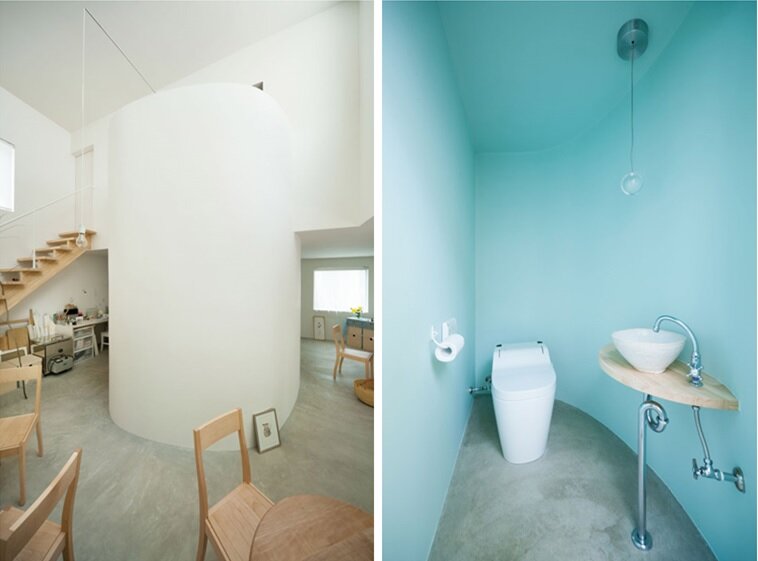 The ground floor is loosely divided up between the gallery, cafe and studio, with no clear distinction between the spaces. The central portion contains a small kitchen, and a toilet that's accessed separately. The toilet is a rather minimalist affair, but does add a splash of color with its blue-painted walls and ceiling.
The more private spaces are found on the upper level of the home. There are two balconies, one that juts out from the bedroom and looks down into the gallery space below. The other is a sheltered roof deck that looks out onto the street. The remaining space has been divided up with the bedroom, and a small shower in the corner.
For more Japanese houses check out this house by Takeshi Hosaka that features a "home within a home". Or, the FKH House by Shintaro Fukuhara that's been designed for himself, and his family. See all Japanese houses.
Via Dezeen
Photos: Takumi Ota