The Stealth Cabin is a modern rendition of the traditional log cabin. Designed by the Toronto-based studio Superkül, the cabin embraces the use of sustainable materials, natural daylighting and ventilation, and interior design the home feel bright, fresh and spacious.
The cabin is set adjacent to a lake not far from Bracebridge Ontario. Superkül – ever conscious of our environmental impact – decided to use local, sustainably forested cedar for the exterior cladding. Over time the cedar will fade allowing the cabin to further blend into the forest environment.
From the outside it's obvious that providing ample natural daylighting was a priority for the design team – large sections of the building are taken up almost entirely by floor-to-ceiling windows. In other areas, where the sun's energy may be too concentrated, they've incorporated solar shading in the form of horizontal cedar batons, which also provide a degree of privacy.
There's no escape from the forest on the inside; it's wholly clad in wood (apart from the floors). The main living area contains a kitchen, a space for dining, and a living room with a large fireplace. To prevent the wood from being overwhelming it's offset by splashes of colour from the furniture and fittings.
There are a number of cozy nooks for relaxing in that overlook the outside landscape, and as its set in a forest, there's mud room for you to clean off your boots. The other areas of the Stealth Cabin include two bedrooms, two bathrooms, and a sun room.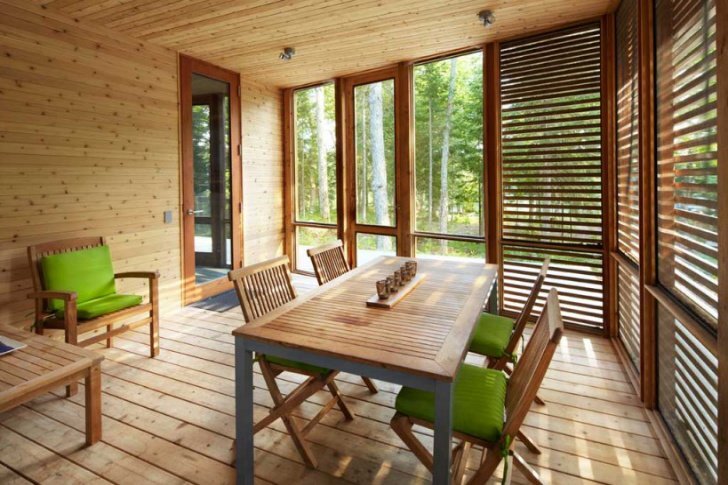 To avoid disturbing the surrounding land any more than necessary, Superkül sited the cabin so as to avoid the excavation of trees and rocks. The Stealth Cabin is designed for year-round occupation, and has been named so due to its ability to blend in with the environment.
For more cabins check out this stunning luxurious cabin from Quebec called La Luge by YH2 Architects. Or this tiny cabin that's been hand-built by Brian Schulz for $11,000. See all cabins.
Via Inhabitat
Photos: Shai Gil