Called Starter Home*, this property has been created by OJT as part of an urban housing program aimed at developing affordable homes. The initiative hopes to keep costs to minimum by building sensibly sized properties on infill sites; land that is overlooked because of its location and irregular plot shape.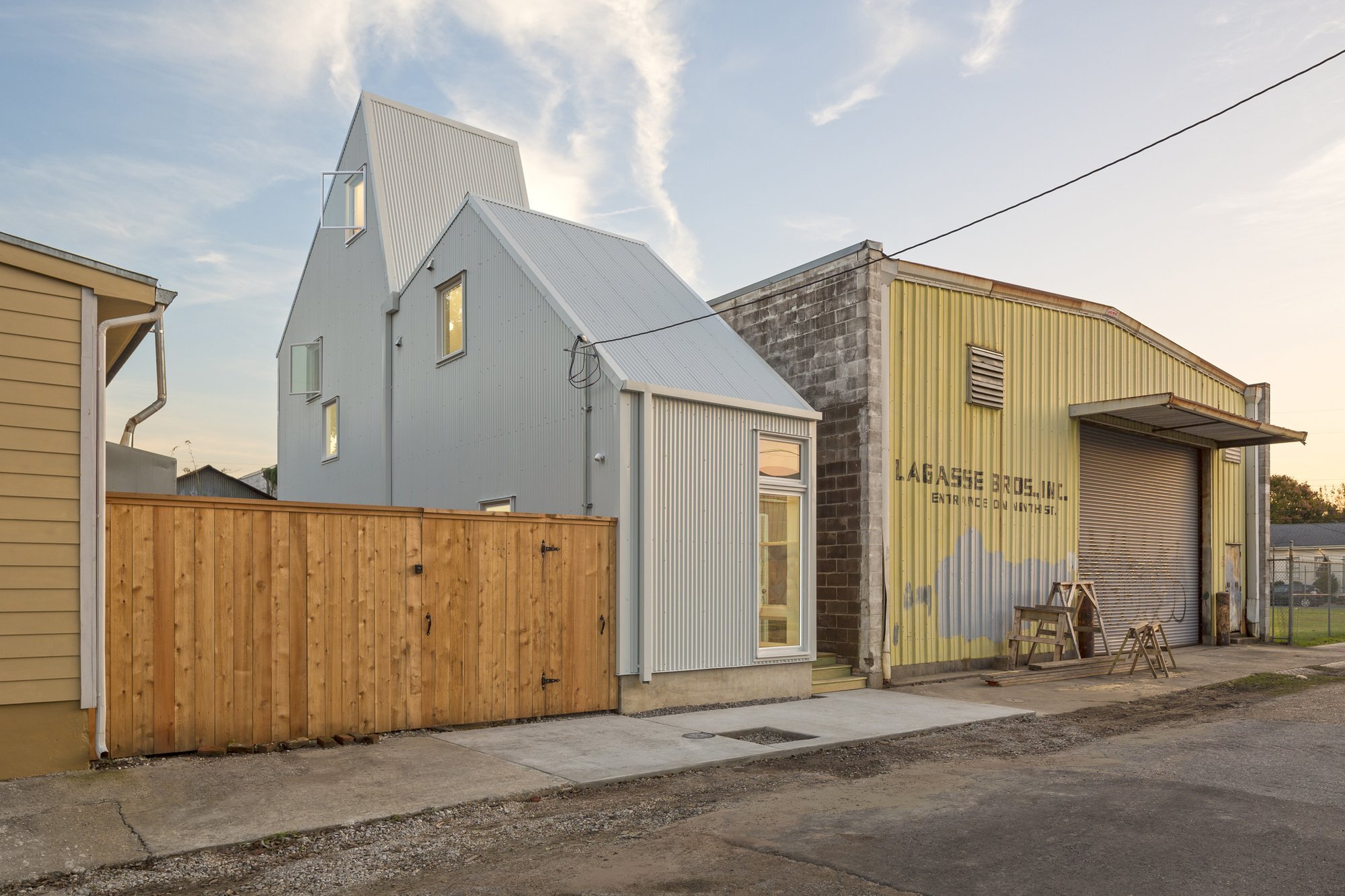 With this strategy they hope to provide housing relief, and a means of allowing both the young and old to get on the housing market. From the architects: "The Starter Home* program is fundamentally about using inventive land strategies coupled with design to develop homeownership opportunities in urban neighborhoods that, due to upward economic pressures, are no longer assessable to large parts of the population."
Starter Home* is the first house to be completed as part of the project. It's set in New Orleans, in a lot that's sandwiched between industrial warehouses and historic homes, a common sight along the riverside. The footprint was limited to 10.5-by-45 feet, with the house itself contain 945 square feet over its two levels.
On the inside, the first floor is occupied by a living room, dining room and kitchen. There's also a downstairs toilet under the staircase. It's long narrow shape leads to a sequential living space arrangement. The second floor features a walk-in closet, a bedroom, the main bathroom, and access to both an attic and a small loft workspace.
The design and layout of the house lends itself to a single person, or a couple – people who fall into this category have found it increasingly difficult in recent years to find a home. The finish is simple, consisting mostly of white walls and ceilings with wood floors.
Windows have been positioned so as to maximize privacy and light intake. The width of the house was partly based on an allowance for window openings along the length of the building – having windows at the ends only would have left the interior rather dim. Unfortunately, as is often the case with these "affordable" homes, the cost hasn't been supplied. Given the simple finish, size and types of materials used, I like to think it lives up to the hype.
For more small houses check out this family home which creates rooms through storage partitions. Or, this small house for an art gallery owner that features spectacular views of the Pacific ocean. See all small houses.
Via ArchDaily
Photos: William Crocker