A simple van conversion is probably the most cost-effective way to road trip. Converting vans into habitable spaces for travelling has become so popular it even has its own hashtag on Twitter; "van life". This Sprinter van has been transformed by filmaker and surfer, Cyrus Sutton.
Sutton has been using modified vans since 2006. He'd been commissioned to make a 16mm documentary on surfing that required travelling from Australia to Los Angeles: "It was a practical decision. I'd been commissioned to make a 16mm surf documentary and failed to negotiate a living wage for myself during the three years it took to make it."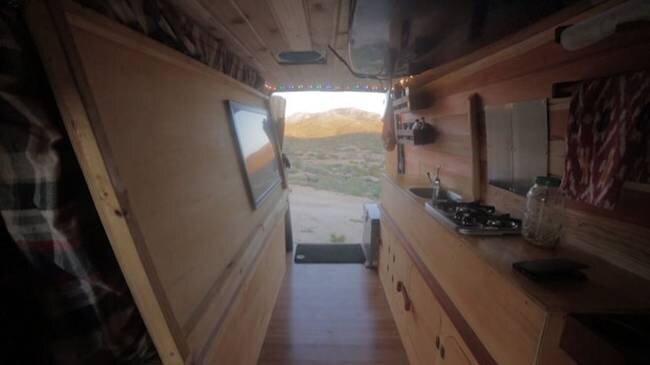 The solution to his problems was a Ford Econoline, which he used up until last year when he had the opportunity to purchase the more fuel-efficient Sprinter. The Sprinter is 14 feet long and 6 feet tall (4.3 and 1.8 meters respectively). Within that space Sutton's managed to carve out a little home for himself.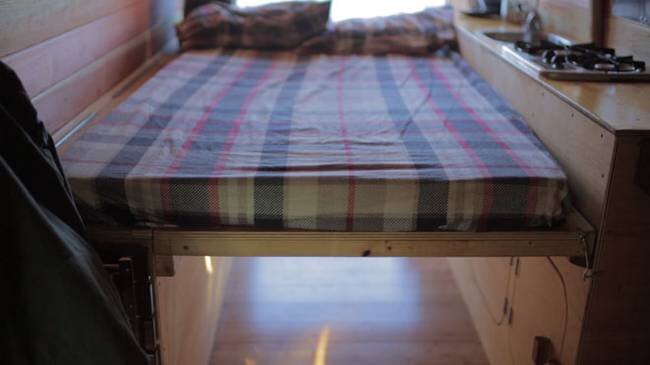 It's not a luxurious high-end tiny house on wheels. Instead the focus is on function and practicality. There's a small kitchen consisting of a propane stove, a refrigerator and a sink. A 5 gallon container of water can be pumped to supply the sink with water.
There's also plenty of under-counter storage for pots, pans and food. For sleeping, a bed can be folded down to rest on the lip of the kitchen units. Clothing and other small articles are stowed away in a series of hanging closets. Working (and relaxing) is catered for through the use of a neat hammock and desk combo.
Showering is accommodated by employing the rear van doors, a screen, and an overhead portable camping shower. Electricity is provided for through the use of solar panels and a marine battery. It's a bit rough and ready, but it's affordable and positively practical given his lifestyle.
For more tiny houses check out this tiny home on wheels called Chickadee. Or, Tinystream, a crossover between an Airstream and a tiny house. See all tiny houses.
Via TreeHugger
Photos: Cyrus Sutton