This modern container home conversion has been carried out by a new company based in the outskirts of Amsterdam. Called Sustainer Home, the company consists of a group of like-minded individuals who have pooled their separate skill sets in order to create an environmentally-friendly, affordable housing alternative.
Their first prototype home has been dubbed the Sol Van Kempen. It's intended to address four commonly used resources: energy, air and heating, water collection and disposal, and materials. The resulting design incorporates various technologies that allow the Sol Van Kempen to be used off the grid.
Sustainer Homes' drive to produce efficient, affordable and eco-friendly homes was brought about by the worry of rising rent, city sprawl, and the vast consumption of resources that are linked to unpredictable future supplies. By creating a home that actively seeks to reduce it's footprint, they can perhaps make an impact on the issue, or at the very least raise awareness.
The Sol Van Kempen is powered by a series of solar panels and wind mills that are mounted to the roof of the container. The combination of the two should allow for regular energy consumption throughout the year. For heating and cooling an energy-efficient heat pump has been enlisted, alongside high grade insulation to ensure the home is cozy in winter and cool in summer.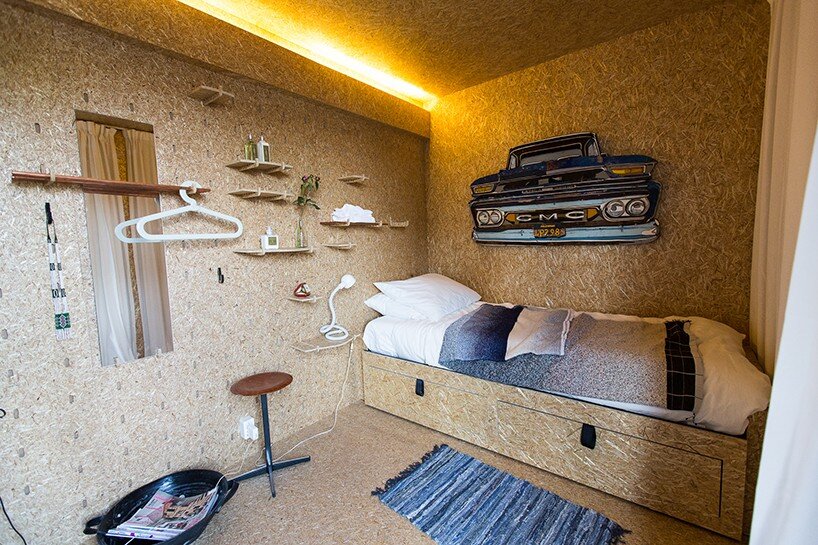 Rainwater is collected from the roof and then filtered to make it safe for drinking, washing, showering etc. Any water that goes down the drain is then cleaned again through a plant-based helophyte filter before being released back into the ground. The choice of materials is based upon their ability to be reused and recycled.
The interior is finished mostly in what looks to be OSB or some similar wood-based panel. It's also used for the furniture and storage units, which might make it a bit too much for some people. Aside from that, the container home features a central living area which contains a living and dining area, and a small kitchenette. At one end of the unit you'll find a bathroom, and at the other there's a bedroom.
For more container homes check out this concept transforming home called the G-Pod. Or, this fantastic little real-life transforming container home. See all container homes.