Set amongst the pine trees of a forest in Brandenburg, Germany, this small cottage acts as a weekend home for a family, although it could easily be occupied on a full-time basis. The site originally contained a summer house that dated back to 1926, which was unfortunately beyond repair.
The owners of the land contacted Atelier-ST to create a modern weekend cabin that would be sympathetic to its surroundings. The new cabin was completed in 2010 and is designed to pay homage to the mythologies and fairy tales that involve dwellings located deep in the forest. The architects even refer to Hansel and Gretel as a source of inspiration.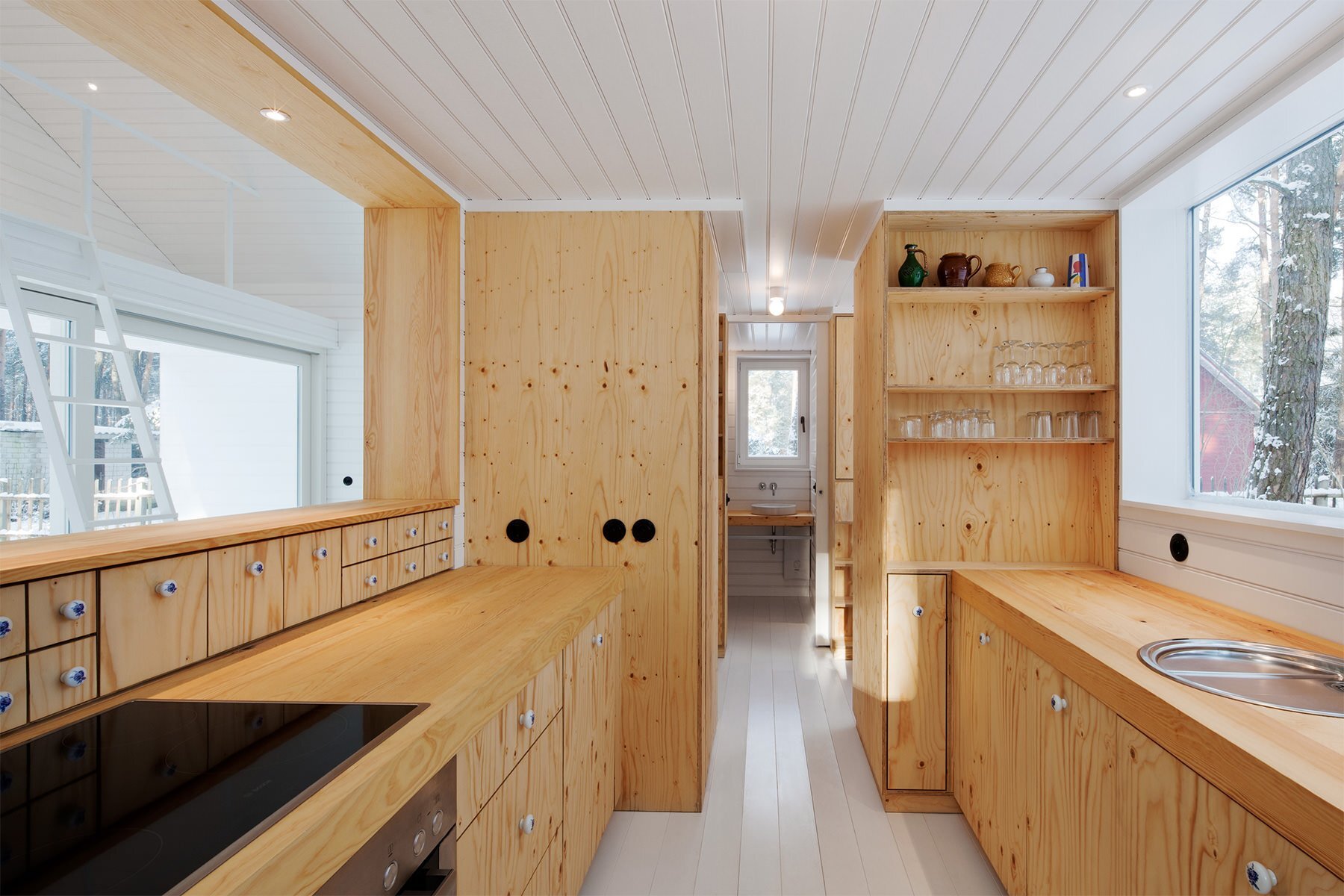 The exterior has been clad with timber and finished in a dark brown helping it to blend in with the forest setting. The house is rather unremarkable from the front and the sides, but the back wall has been dedicated almost entirely to a set of large patio doors.
The doors/windows allow the rear of the house to be flooded with natural light, creating a bright and airy living space (which is enhanced by the nearly all-white finish). The interior of the house contains a kitchen, living room, lofted sleeping quarters and a bathroom.
The living room is finished almost entirely with white-painted wood. The only items breaking up the white palette are the furniture pieces and the wood-burning stove. Unlike the living room, the kitchen features unpainted wood finishes which create a much warmer atmosphere.
Much of the storage has been built into the walls to maximise on the available floor space. The bathroom is clad in the same white-painted wood as the living room, but features a rather funky red-tiled shower compartment. Designed for year-round use, the cabin is a quaint getaway that feels as if it's in a remote location, but is actually located within the city bounds of Berlin.
For more cabins check out the Stealth Cabin by the Toronto-based studio Superkül, which aims to blend in with it's environment. Or the Methow Cabin designed by Eggleston Farkas Architects that serves as a family holiday home in both the summer and the winter. See all cabins.
Via ThisIsPaper
Photos: Werner Huthmacher