With a limited budget, Marta Badiola's chances of purchasing a home in Spain's most expensive city had to come with some compromises, in this case it happens to be space.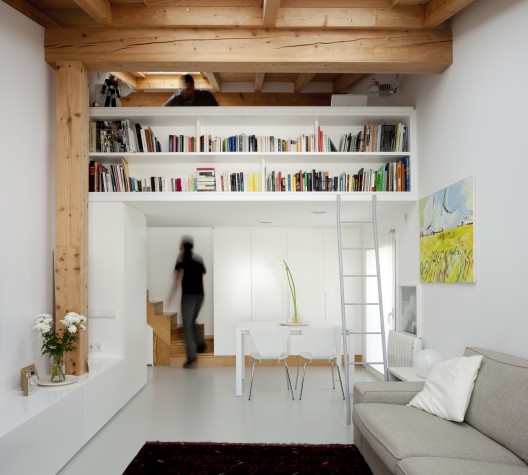 The 40 square-meter home (430 square feet), called Villa Piedad (Mercy House), was originally a two-family home built in 1950. Over time the house was divided up into 8 tiny apartments.
Originally Marta's home featured low ceilings and had a claustrophobic central corridor that provided entry into 5 tiny living areas. To make the space more liveable, Marta had the separate areas demolished to create a much larger open plan layout. The roof was also reconstructed and 7 skylights were added to bath the interior with light.
The open plan layout features a central partition, around which the other areas of the home are arranged. The first floor contains the kitchen, living room, dining area, and bathroom (located under the stairs). The mezzanine has been converted into a work studio, but can also serve as a bedroom for guests.
Via Archdaily