This small cottage-style house has been designed by LLP Arkitekkontor for a young family in Sweden. The house meets the clients requirements (both in terms of function and budget), while also fusing design with liveability.
The compact house (measuring just 667 square feet) is set on a relatively isolated open plot, that's shielded from its neighbours by vegetation. The designers have attempted to create a building that's sympathetic to its surroundings. The exterior features vertical worn wood cladding, and a simple roof clad with metal sheeting.
Due to the privacy provided by trees and shrubs on the rear of the property, the designers decided to "open up" the home. The rear wall is taken up almost entirely by window and door openings, flooding the internal space with sunlight.
From the architect: "The summerhouse is located along an old county side road going inland from Katthamarsvik on Gotlands eastern coast. The site borders the road to the south and heath like pastures to the north. The very small house is kept low and has been placed in the middle of the site, with a garden with some fruit trees facing the road and a private side facing the heath."
"The entrance to the road is withdrawn under a roof of corrugated polycarbonate greenhouse panels. To the north a series of window doors. At the entrance it is possible to look right through the building from north to south."
On the inside you'll find a comfortable modern home, featuring bright, but please accents of colour against the white background. The main living area takes up almost two thirds of the available space and contains the living room, kitchen and dining area. The main living area also flows directly into a small bedroom (presumably for the children) with bunk beds. The other areas of the house contain another two bedrooms and a bathroom.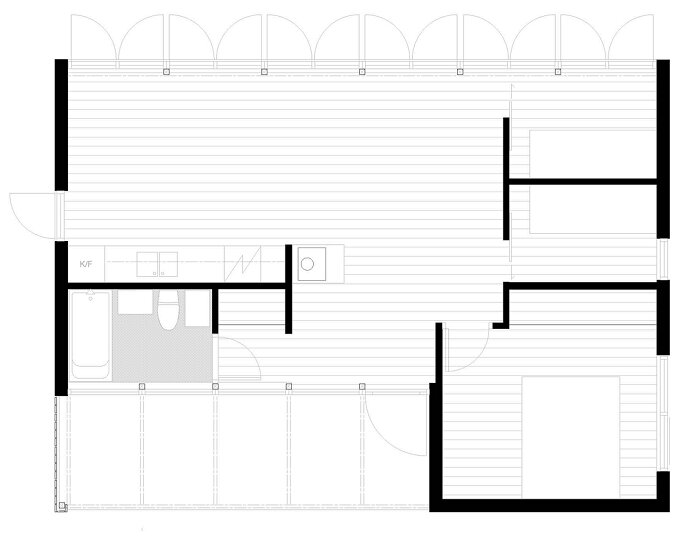 A simple but effective small house; there are no luxurious or unnecessary spaces here (like home cinemas). Instead the designers have provided a home that is specific to the needs of the owners, contains all the amenities of modern life and accomplished it all on a modest budget.
For more small houses check out this converted chalet that was previously used by the by the Swiss Army in World War 2. Or this small house on Sauvie Island that's been restored for a family. See all small houses.
Via ArchDaily
Photos: Robin Hayes