This modern small house in Japan has been designed by Takeshi Hosaka for a young couple and their two cats. Set in a residential district of Tokyo, the house is composed of an outer leaf which shelters the inner home, a separate volume that contains the main living spaces.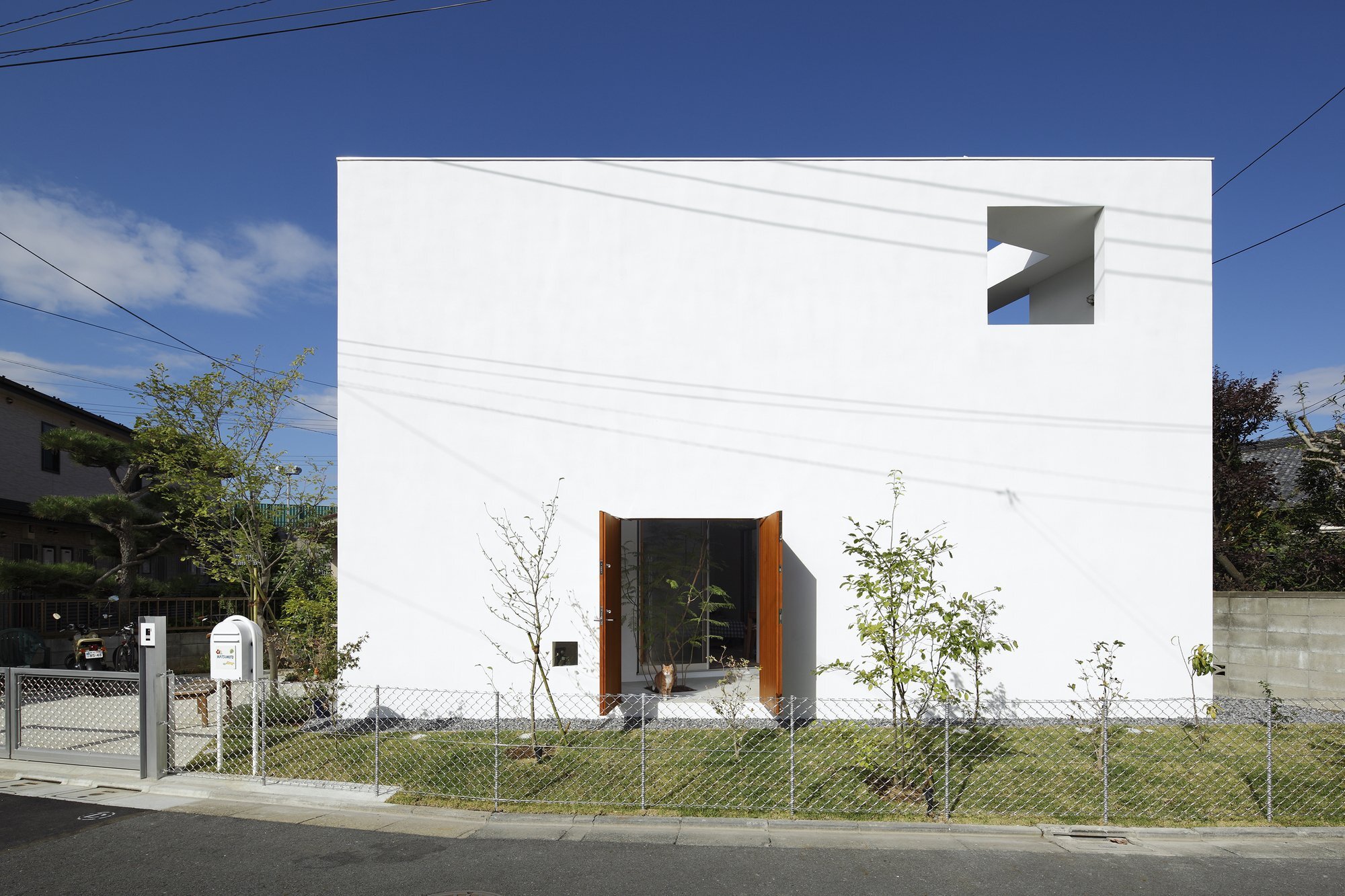 According to Hosaka, the initial concept of the project revolved around the idea that the house would not just be designed for people, but also cats. This resulted in the final design which is composed of the outer shell and inner home, or as Hosaka puts it, "a house inside which you feel being outside."
The building takes on the shape of its irregular site. The outer wall contains openings which are positioned take advantage of natural light, while also filtering out rain and wind. Between the outer wall and the inner house, there's a small courtyard that features a scattering of plants, providing some much needed greenery.
As seen from the floor plans, the central unit features a master bedroom, toilet and closet on the ground floor. A separate bathroom and laundry room can also be found in the corner of the building. The lower floor level seems to be mostly closed off from the outside, with a few door openings to provide access.
The upper loft can be accessed by a staircase found in the courtyard. It features a kitchen and living room, and can be "opened up" almost entirely along the two walls that face the street. The living area is faced off with what looks to be a series of sliding glass panels.
The panels can be slid back to reveal the exterior wall and the street beyond. Building control in Japan must be quite relaxed, because there doesn't appear to be any guard rail to prevent a fall. The final living space in this unusual home is a small terrace set above the bathroom, that's just big enough for two people (and perhaps two cats).
For more Japanese houses check out HouseAA from Nara City that features a roof that's designed to provide privacy for its owners. Or, architecture studio, Be-Fun Design's take on the apartment block. See all Japanese houses.
Via ArchDaily
Photos: Koji Fujii