The Japanese architecture firm, Another Apartment, designed this small house on a narrow lot in suburban Tokyo. The house features a glazed façade that provides views of the local park and allows natural light to penetrate deep into the home. From the architect Tsuyoshi Kobayashi:
"I started to think about creating a comfortable space where the attraction of park extends in. With a light impression, the stairs look like thin plates appearing from the wall."
The ground floor is predominately taken up by a garage and bathroom. The living area, kitchen and bedroom have been raised to the middle storey with a mezzanine loft, accessed via ladders, above the kitchen/bedroom area.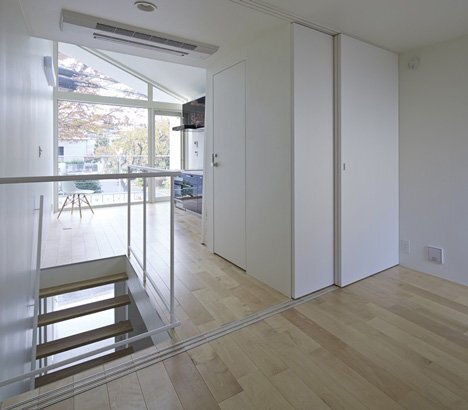 The cantilevered wooden staircase connects the two main floors of the home, helping to increase the sense of spaciousness and brightness.
The walls and roof of this small Japanese house are clad with galvanised steel panels, helping to create a clean, minimal appearance in a street which is predominately occupied by traditional homes.
Via Dezeen