This small Japanese house may not be much to look at from the outside, but it's unusual shape makes for an interesting interior layout. The house is set in Japan's Fukuoka Prefecture, and is composed of two floor levels which provide a total of 69 square meters (742 square feet) of usable space.
The house was completed in 2011 and created by the architecture studio, Rhythmdesign, for a young family. Its odd shape is due to the triangular plot of land on which the house is set, which also produced some design challenges for the architects involved. In the end they settled on a central living area off of which all the other rooms of the house could be accessed.
The dining area acts as the central hub of the home through which all members of the family can interact. On the ground floor you'll find the kitchen, wash room, utility room, toilets, study area, exterior terrace, and a washitsu (a Japanese style room). All of these individual spaces revolve around and can be accessed from the dining room.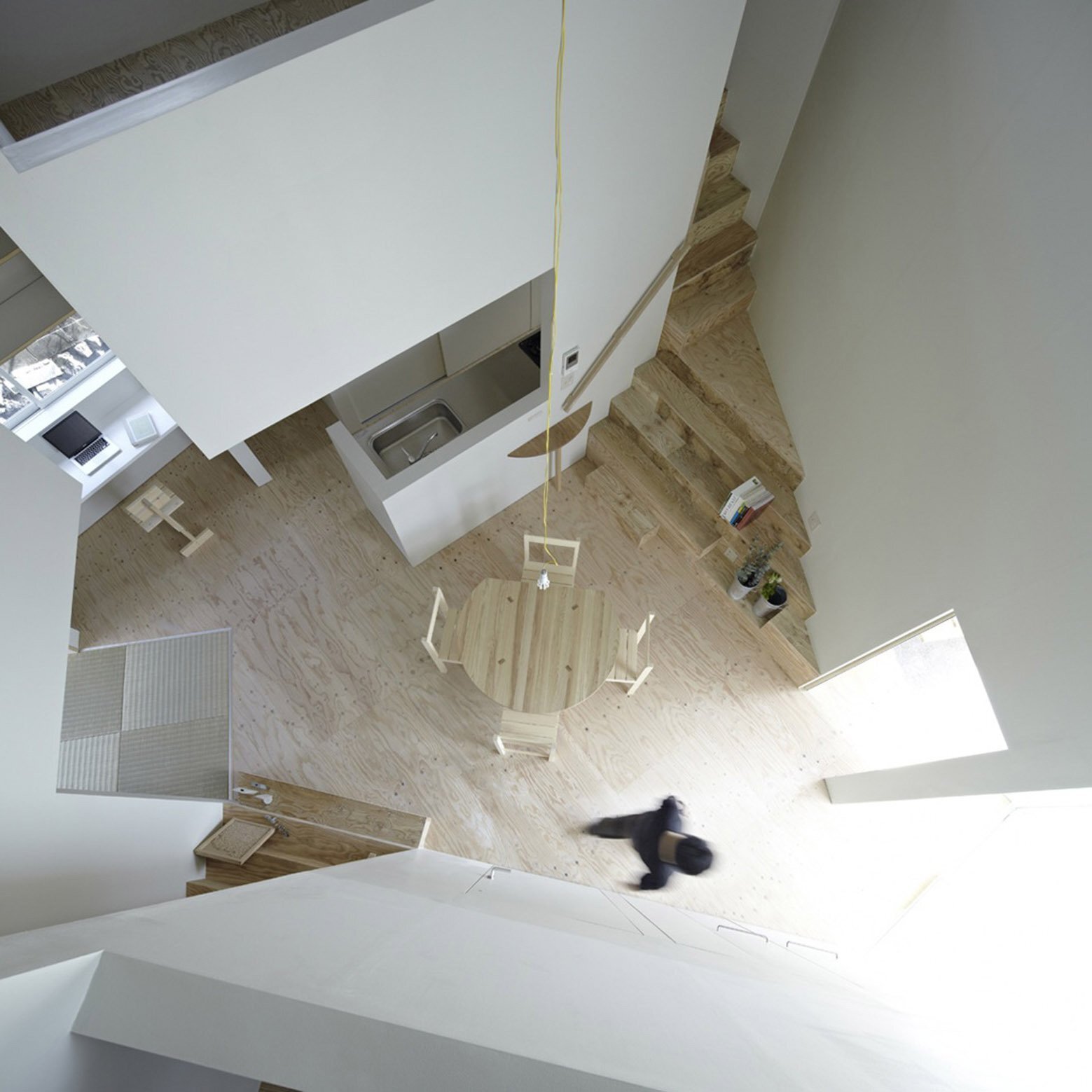 The second floor is less complicated and contains three bedrooms and a storage space. Instead of creating an additional fourth bedroom, they've decided to create a double height space in the Japanese room. Another interesting aspect is that the bedrooms themselves are not completely sealed off from one another.
The bedrooms feature large openings that allows light from the central hub to pass directly into them. It also reduces privacy between the occupants and their neighbours (it's possible to see an adjacent building from one of the bedrooms). A strange feature given our western design ideologies, but it could easily be reduced by incorporating some privacy shades.
The finish, both inside and out, is a bright white that's offset (on the inside) by the timber floors, stairs and furniture. The overall effect is a very minimalist space, with its focus on function and how to bring together the different needs of a family without creating a completely separate space for each individual.
For more Japanese houses check out this other family home that's designed to adapt to the needs of the occupants. Or this 3-meter-wide house in Tokyo by Saboarch. See all Japanese houses.
Via Archdaily
Photos: Koichi Torimura