This small house is just 45 square meters (484 square feet) in size and has recently been given a makeover by the Moscow-based architecture studio, INT2architecture, with the aim of making the space more stylish and functional.
The house is divided into four main zones – the bathroom, bedroom, living room and kitchen – each of which has been finished in its own distinct pastel palette. The entrance is sandwiched between the bedroom and bathroom and contains a small storage closet for coats and jackets. The bathroom is small but functional, and features elements of playfulness, such as crossword tiles in the shower.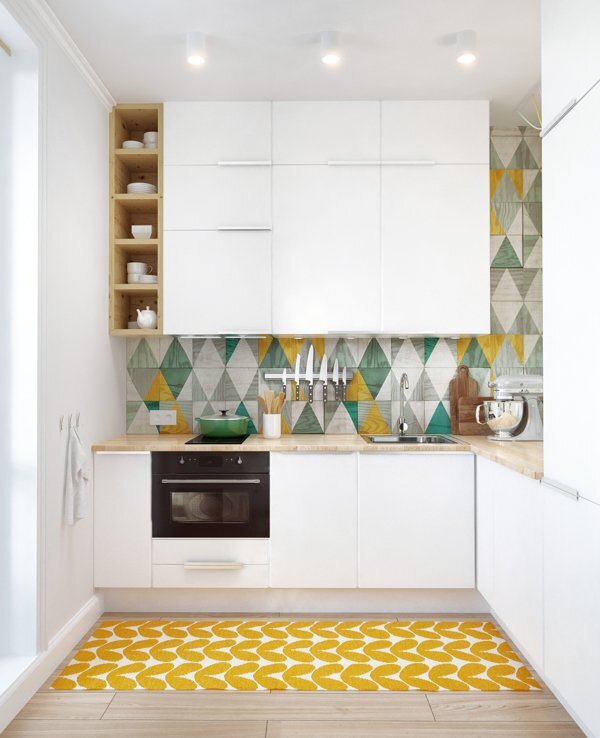 The entrance hallway leads directly into a mostly open plan space, with the kitchen and living area being separated by a small home bar. The internal brick lining of the structure is prominent throughout the home, however it's been painted white to prevent it from being too dominant, and sapping light from the spaces.
In the kitchen they've made the most of wall space by extending the wall cabinets to the ceiling. The cabinets, like the walls, are finished in a white pallet, but it's offset thanks to the colourful tile splash-back and the rug. Textiles and furniture pieces have been used throughout the home to add a sense of fun. To the side of the kitchen is a small enclosed back porch which serves as a nook for relaxation.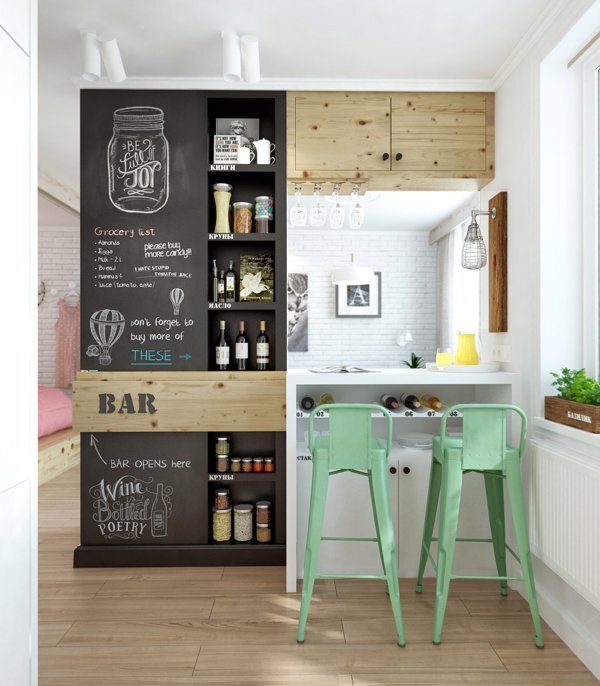 The living room contains a scattering of seating and tables, all of which is based around the TV mounted on the brick partition in the centre. The living room is lit by a large set of casement windows. The bedroom is accessed directly from the living room and is separated only by a curtain. By doing this INT2architecture were able to increase the overall functionality of the home. The bed is also raised on a wooden platform contain storage below the deck.
It's easier to go overboard with such a range of bright, colourful elements, but it's clear that INT2architecture have spent time not only creating a functional living space with unique storage solutions, but have also built a sense of personality into the home through the use of colour and patterns.
For more small houses check out The Town House by the Stockholm-based architecture practice, Elding Oscarson. Or the Domo Dom House that's been created for a gardener in Poland. by the Arciteckt.Lemanski. See all small houses.
Via Trendir
Photos: INT2architecture