Ever need to really get away from it all? Perhaps this small cabin on the precipice of the Julian Alps is where you need to head for a little alone time.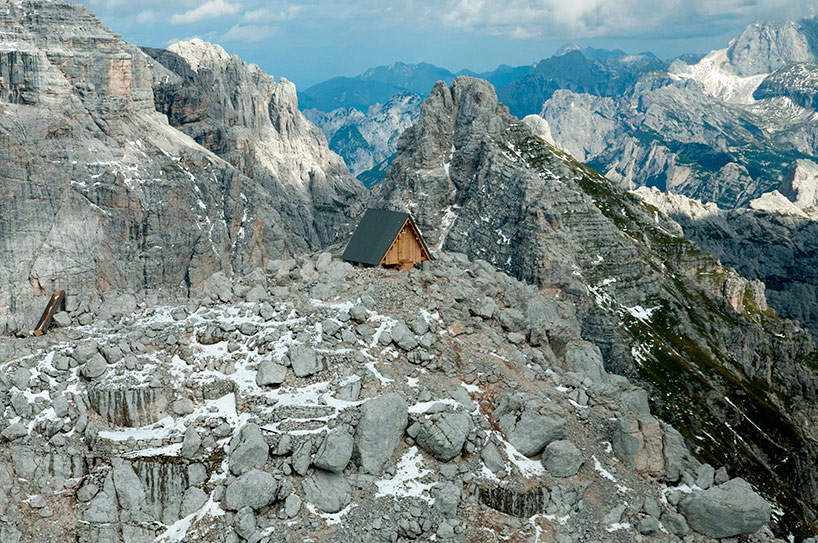 Designed by Italian architect, Giovanni Pesamosca, the cabin is built on one of the most striking locations available, at the crest of Foronon Buinz in the Julian Alps. The cabin is named after the deceased climber Luka Vuerich, and is a prefabricated modular structure composed mainly of a timber frame.
Designed primarily as a pit stop for climbers and hikers, the interior contains nine beds (perhaps not so alone after all) providing place of refuge along the summit trail. Cabin is set on a foundation of 6 (rather large) concrete piers. They made use of CLT (cross laminated timber) panels and Glulam (glued laminated timber) beams to provide a sturdy structure in what can be an unforgiving environment.
The panels and beams were milled using CNC at ground level and then air lifted by helicopter to the site, which is 2531 meters (about 8300 feet) above sea level. The 16 square meter cabin (172 square feet) was then assembled. The cabin contains three large trusses, supporting its walls/roof. It also took 30 CLT prefabricated panels to "house-in" the cabin.
The interior is finished entirely in wood, with most of the space being taken up by the 9 beds. The only source of light is provided by two small windows at the gable ends of the cabin.
The construction of the cabin was a bit of a community effort; a team of 12 people including professionals, volunteers, and friends of the Vuerich family made the hike up the Alps to help take part in the construction. It took only one day to assemble the cabin.
For more small spaces check out the Methow Cabin, a modern family cabin designed as a retreat during the ski season. Or this environmental cabin that provides a close-up with nature in wilderness of Wolfurt, Austria. See all cabins.
Via DesignBoom
Photos: Flavio Pesamosca