This single-storey flat in Madrid, Spain, features library-style shelving units that can be moved to create different rooms within the home. The apartment was redesigned by local architecture company, PKMN. The project has been called "All I Own House".
PKMN were recruited by the client, who recently inherited the apartment from their grandmother. To maximise on the function of the space, the moveable walls cans be used to create, or close off different rooms. The kitchen, bedroom and storage areas are all found within the partitions.
Oriented Strand Board (OSB) has been used to great effect. It's a cheaper material than plywood, and also provides the apartment with a degree of texture, breaking up the white walls and ceiling. The first unit contains a kitchen with work surfaces can be folded up for storage. The second block features the bedroom, and bookshelves. The final unit is used for additional storage.
From architect David Pérez García: "This space can be totally re-arranged in just a few seconds, thus allowing, in a variety of combinations with served space, to adapt the whole house according to specific needs for the use of space at the time, enabling infinite homes within a house."
The open plan space next to the kitchen/bedroom/storage areas, serves as a dining and living room. The bathroom is set along the entry wall. The toilet and sink area can be closed off for privacy. When showering, people can make use of the movable partition.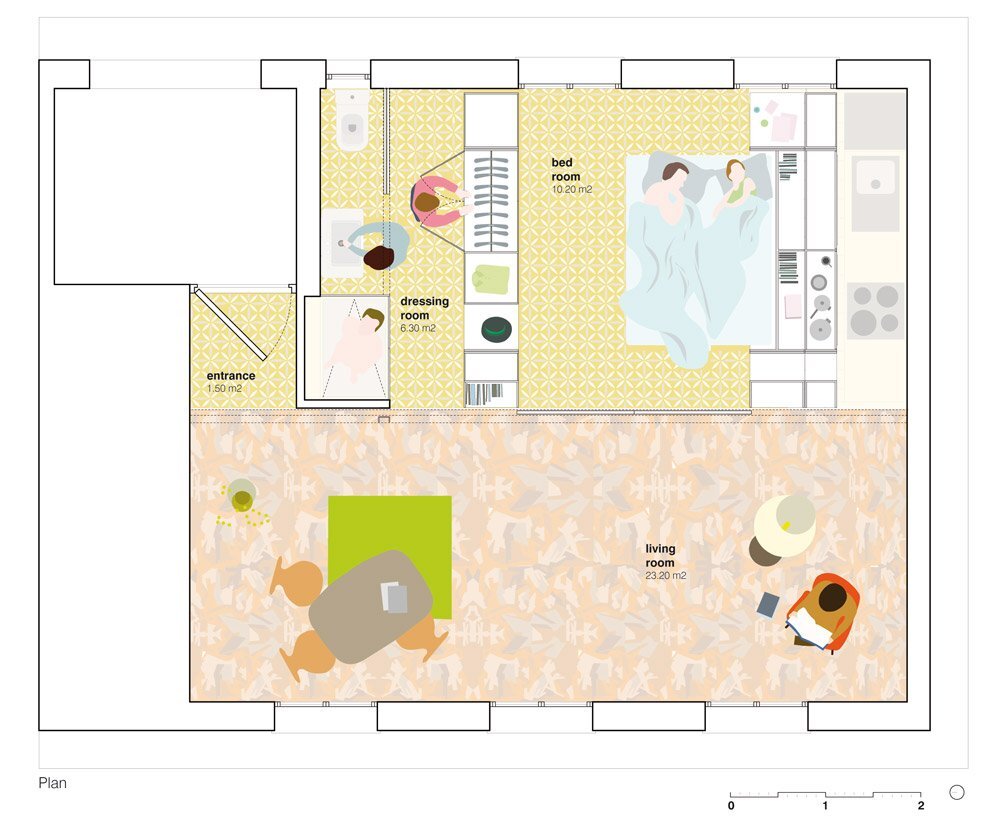 The units themselves make use of a simple industrial hardware. They're mounted on casters, and use ceiling tracks for guidance. From García: "The story is about dealing with storage of personal belongings and how their organisation and display is related to domestic experience."
For more apartments, check out this 87 square foot apartment in Paris by Kitoko. Or, this apartment in Barcelona that's designed for shared micro-living. See all apartments.
Via Dezeen
Photos: Javier de Paz García